Product Details
How do I know if I have poor blood circulation?
This checklist aims to give you a general idea on problems with poor blood circulation:
Cold hands and fingers
Cold feet and toes
Body parts numbness
Varicose veins and lumps in blood vessels
Hair loss and weak nails
Poor memory
Leg ulcer
Leg cramps and pain
Abnormal swelling and water retention – especially in the feet
Regular dizzy spells and headaches
Dry skin despite drinking plenty of water
Blotches and blemished skin
Discolored skin with slight bruised look at fingers and toes
Exhaustion and tiredness
Erectile dysfunction
Angina and squeezing chest pain
Lack of appetite
Digestive issues
Weakened immune system
Our proposed solution: Thomson Activated Ginkgo Extract 40mg
Circulatory difficulties may be treated with medication, but in line with Green Wellness's principle, we recommend a more natural approach whenever possible. And Ginkgo Biloba has a 3,000 year history of medicinal use by Chinese herbalists for poor blood circulation.
Why Thomson Activated Ginkgo Extract then?
Thomson Activated Ginkgo Extract is
NOT just your ordinary ginkgo biloba!
Patented Activation Technology from Japan to enhance absorption
Each tablet contains 40mg of highly concentrated Ginkgo Biloba extract from Japan, equivalent to 2,000mg of young Japanese Ginkgo leaves.
Guaranteed to contain a minimum of 24% ginkgoflavonglycosides and 6% terpene lactones, thus rich in ginkgolide B (more info below)
Free of pesticides, fungicides, yeast, sugar, colouring and preservatives
Free from biotoxic solvent residues
Manufactured under strict Good Manufacturing Practice (GMP) with an in-house quality control laboratory
Awards won
This no. 1 Ginkgo Biloba in Malaysia was also the proud winner of 2013 Unity Popular Choice Brand Award in Supplement (Ginkgo).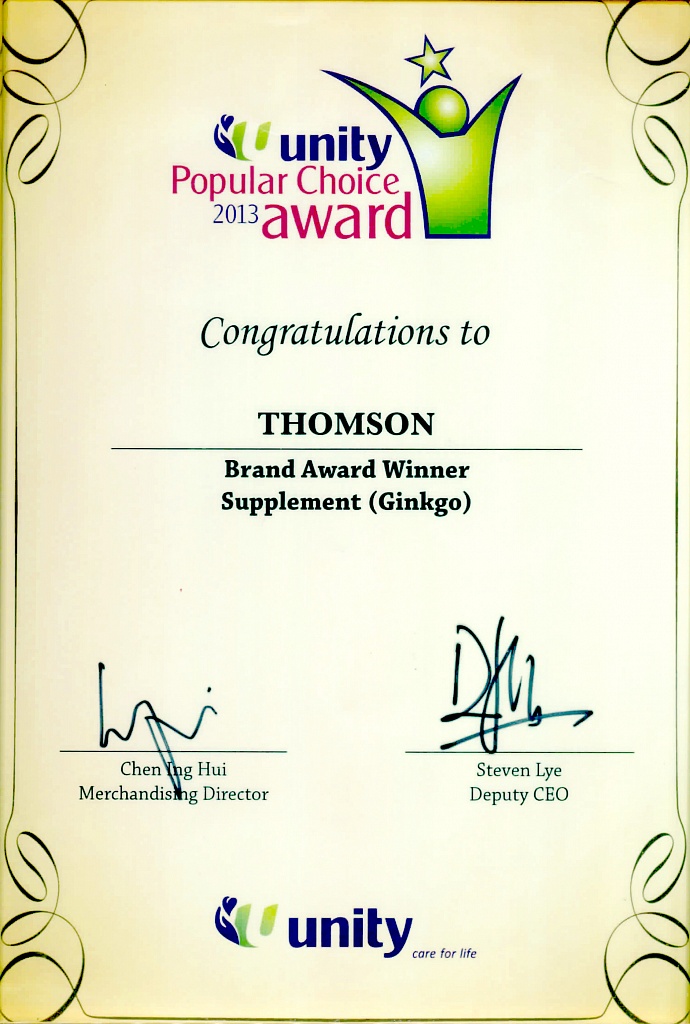 If you are curious!
What is Ginkgo Biloba?
A species of plant that existed 65 million years ago and continues to thrive today
Sometimes referred to as a living fossil as it can live for more than 1000 years and it is resistant to disease, fire and environmental hazards
Its medicinal use can be traced back to the oldest Chinese Materia Medica (2800 B.C.)
Ginkgo Biloba extract has been shown to improve blood circulation to all parts of the body
It exerts a potent free radical scavenging and membrane stabilising effect
It is also a potent inhibitor of platelet-activating factor (PAF) which is involved in many inflammatory and allergic reactions.
What is Ginkgolide B?
one of the major components of Ginkgo biloba extracts
A potent platelet-activating factor (PAF) receptor antagonist, which is also regarded as having neuroprotective effects on the central nervous system (CNS). The activation of PAF receptors PAFR may play an important role in the inhibition of the mitochondrial respiration and the induction of neuronal damage after cerebral thrombosis.
Ginkgolides possess neuroprotective effects by improving mitochondrial metabolism. PAF is an ubiquitous phospholipid that acts as a mediator of numerous pathophysiological conditions.
Recommendation
For children, we recommend for 12 years old onwards. And for half the adult dose for 12-18 years of age, ie 1-3 tablets a day.
Precautions
Thomson Activated Ginkgo Extract contains less than 1 ppm of ginkgolic acid (a toxic compound found in ginkgo biloba), which is 5 times lower than that specified for Ginkgo biloba extract in the German Commission E Monograph.
Contraindications:
Ginkgo may increase the risk of bleeding. Do not use with anticoagulant medications unless prescribed by a healthcare practitioner (including aspirin and warfarin). Avoid using with Nurofen due to anticoagulant effects. If unusual bleeding or bruising occurs, stop use immediately. Not to be taken in pregnancy unless prescribed by a health practitioner.
ABOUT THE BRAND

Established since 1987, Herbal Revival Sdn Bhd has emerged as one of the leading herbal and nutritional supplement manufacturers in Malaysia, with the flagship Thomson brand of products which are synonymous with quality and innovation.
Thomson health supplements are manufactured in compliance with Good Manufacturing Practice (GMP) approved by the Ministry of Health in Malaysia.
Strategic worldwide collaboration with reputable and established suppliers who guarantee the quality of their proprietary raw materials has distinguished Thomson from the rest.
While pharmaceutical drugs are subjected to stringent efficacy and safety controls which are time consuming, expensive and requires total commitment, the same criterias do not necessarily apply to health supplements in most countries. Herbal Revival's staunch commitment to quality and safety has led to the creation of a team of competent and qualified Pharmacist, Chemist, Biochemist, and Microbiologist, to ensure that every batch of Thomson health supplements undergoes an endless battery of analytical tests in their in-house quality control laboratory to meet the ultimate needs of our customers.
Herbal Revival was also the finalist for 2012 Industry Excellence Award organized by Malaysia Ministry of Health
Company Youtube: https://www.youtube.com/watch?v=lQvyNxD2exw&feature=youtu.be
Product Availability
Ready Stock.
Expiry date: 10.2026