Product Details
How do I know if I suffer from Osteoarthritis?
This checklist may give you a general idea whether your joints are suffering from "wear and tear":
Over 40 years of age

Overweight or obese

Active in sports

Pain, recurring tenderness in one or more joints (especially hands, knees, hips and spine)

Morning stiffness

Loss of flexibility of joints

Swelling and creaking of joints
Our proposed solution: Thomson OsteoPro
Sulfate is needed by the body to produce cartilage. This is one reason why researchers believe that glucosamine sulfate might work better than other forms of glucosamine such as glucosamine hydrochloride or N-acetyl glucosamine. These other forms do not contain sulfate. Yet, you cannot get glucosamine sulfate from foods. It is a natural chemical found in the human body or the shells of shellfish.
Why Thomson OsteoPro?
Each capsule of Thomson OsteoPro contains 400mg of patented Glucosamine sulfate dipotassium chloride from USA equivalent to 300mg of fully-reacted non-shell fish Glucosamine sulfate.

Fully-reacted Glucosamine sulfate is less likely to cause gastrointestinal irritation than commonly available Glucosamine sulfate.

Every batch of raw material is analysed for Glucosamine sulfate content, heavy metals as well as microbial contamination.

Free of pesticides, fungicides, yeast, sugar, coloring and preservatives.

Manufactured under strict Good Manufacturing Practice (GMP) with an in-house quality control laboratory.
If you are curious!
What is Osteoarthritis?
Osteoarthritis is the most common form of arthritis, affecting millions of people worldwide. It occurs when the protective cartilage on the ends of your bones wears down over time. Although osteoarthritis can damage any joint in your body, the disorder most commonly affects joints in your hands, knees, hips and spine.
Osteoarthritis is a degenerative disease that worsens over time. Joint pain and stiffness may become severe enough to make daily tasks difficult. Some people are no longer able to work. When joint pain is this severe, doctors may suggest joint replacement surgery.
What is cartilage?
Cartilage is the connective tissue that acts as a shock absorber in our joints

Prevents impact damage between opposing bones

Lubricate and reduce friction and pain in joints
What is Glucosamine Sulfate?
Glucosamine is a natural substance found in the body, made of sugar (glucose) and amine from glutamine (amino acid)

Found largely in the cartilage, Glucosamine provides structure to body's bones, cartilages, skin, nails, hair and other body tissues.

Being the building blocks of healthy cartilage, Glucosamine helps repair damaged cartilage.
Recommendation
Dosage: 2 capsules twice daily, preferably after meals. This regime of 4 capsules daily is recommended to be taken for 4 to 8 weeks for optimum results of the osteoarthritis.
Precautions
Due to the nature of healing crisis, one may experience a temporary increase in joint pain which may be mild or moderate. As glucosamine occurs naturally in our bodies, it is virtually free of dangerous/negative side effects. Some minor side effects such as stomach upset, heartburn, indigestion, gas, bloating, and diarrhea may occur in some individuals. If these symptoms occur, glucosamine should be taken with food.
Always tell your doctor about any supplements you are taking, including natural ones and those bought without a prescription. That way, your doctor can check on any potential side effects or interactions with any medications.
ABOUT THE BRAND

Established since 1987, Herbal Revival Sdn Bhd has emerged as one of the leading herbal and nutritional supplement manufacturers in Malaysia, with the flagship Thomson brand of products which are synonymous with quality and innovation.
Thomson health supplements are manufactured in compliance with Good Manufacturing Practice (GMP) approved by the Ministry of Health in Malaysia.
Strategic worldwide collaboration with reputable and established suppliers who guarantee the quality of their proprietary raw materials has distinguished Thomson from the rest.
While pharmaceutical drugs are subjected to stringent efficacy and safety controls which are time consuming, expensive and requires total commitment, the same criterias do not necessarily apply to health supplements in most countries. Herbal Revival's staunch commitment to quality and safety has led to the creation of a team of competent and qualified Pharmacist, Chemist, Biochemist, and Microbiologist, to ensure that every batch of Thomson health supplements undergoes an endless battery of analytical tests in their in-house quality control laboratory to meet the ultimate needs of our customers.
Herbal Revival was also the finalist for 2012 Industry Excellence Award organized by Malaysia Ministry of Health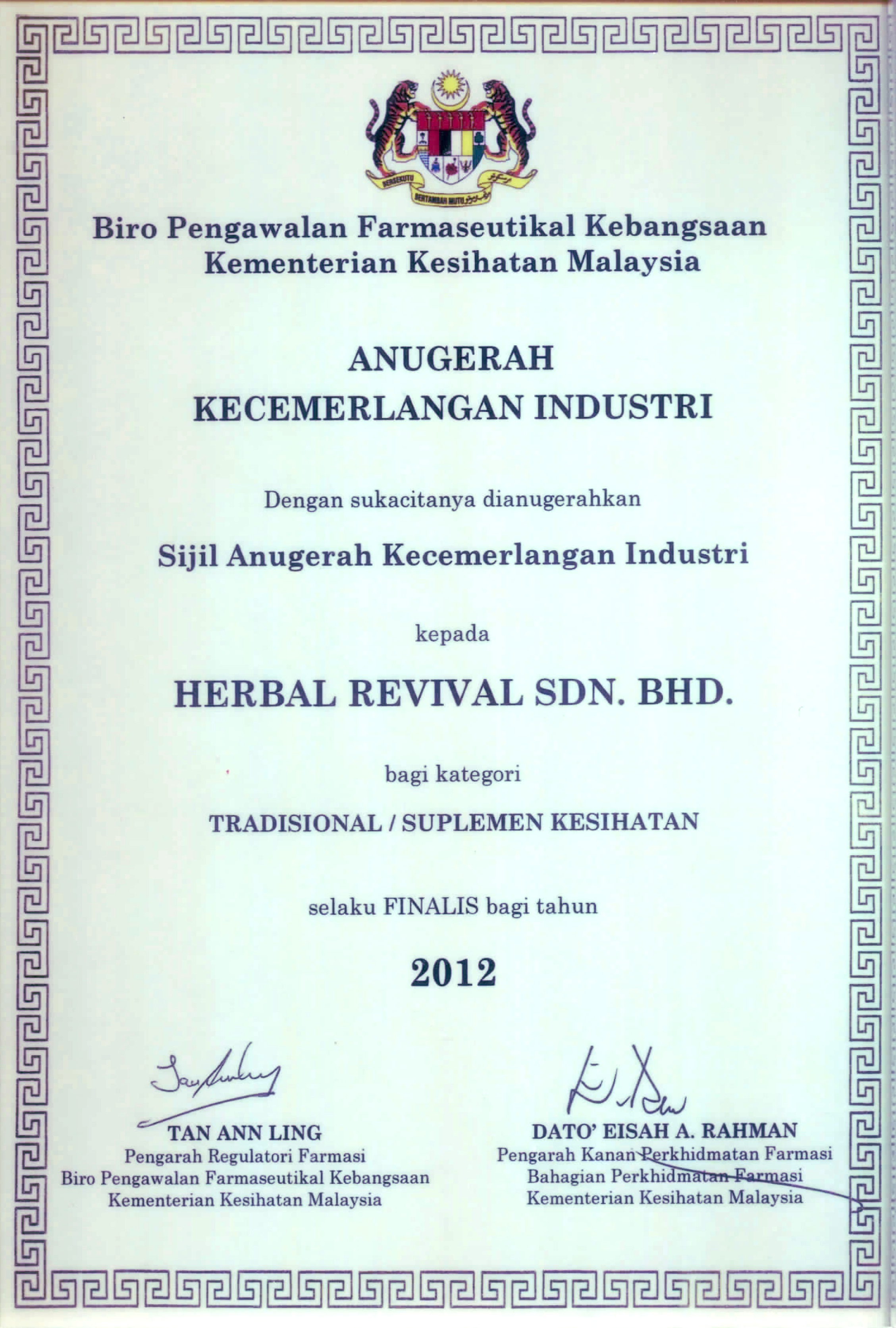 Company Youtube: https://www.youtube.com/watch?v=lQvyNxD2exw&feature=youtu.be
Product Availability
This is a BACKORDER item.
Please take note that the waiting time for Backorder items is around 1-3 weeks from the date of payment, subject to stock availability. For orders outside Malaysia, there might be a shipment delay especially during peak holiday seasons. We will try our best to expedite all orders but in any cases that Backorder is cancelled, full cash/credit refund will be given. We sincerely appreciate your kind understanding and patience.