Product Details
Introducing Sacha Inchi, the 5000-year-old powerful plant that is considered as the BEST source of Omega 3 and vitamins that even rivals fish oil and olive oil.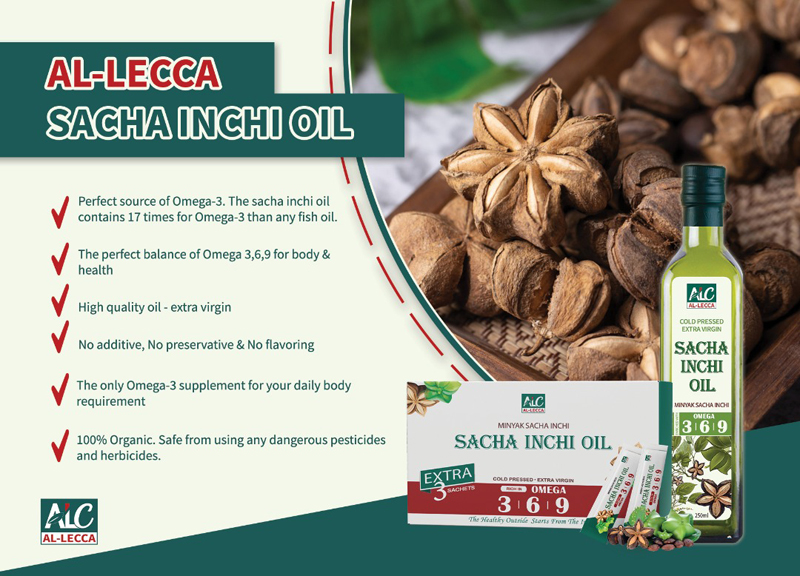 The ancient powerful plant is called Sacha Inchi, named by the Incans. And the part with the most benefits is its seeds.
Ingredients
100% pure cold-pressed oil from sacha inchi nuts. Nutrition facts as below. Serving size 1tbsp (12.5mL) or 1 sachet (5mL):
| Average Composition | Per 5ml | Per 12.5ml | Per 100ml |
| --- | --- | --- | --- |
| Energy | 45.0 kcal | 112.3.0 kcal | 899kcal |
| Total fat | 5.0g | 12.5g | 99.9g |
| >Saturated | 0.4g | 0.9g | 7.5g |
| >Polyunsaturated | 4.1g | 10.3g | 82.6g |
| >Monounsaturated | 0.5g | 1.2g | 9.8g |
| Omega-3 | 2.3g | 5.8g | 46.4g |
| Omega-6 | 1.8g | 4.6g | 36.4g |
| Omega-9 | 0.5g | 1.2g | 9.8g |
| Cholesterol | 0g | 0g | 0g |
| Vitamin E | 2.02mg | 5.04mg | 40.3mg |
| Proteins | 72.5mg | 29mg | 580mg |
AL-LECCA grows their own Sacha Inchi plants and cold-presses the seeds into extra virgin, pure sacha inchi oil.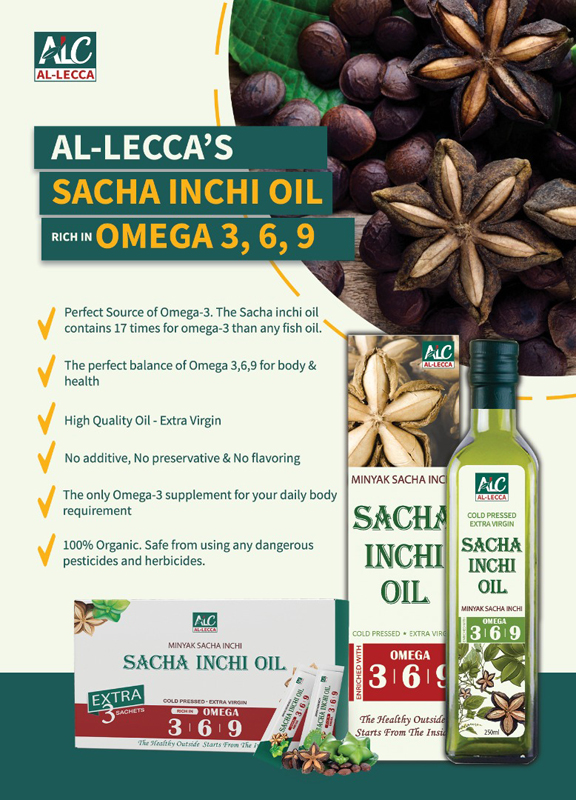 7 Powerful Benefits of AL-LECCA's Sacha Inchi Oil That You Need To Know;
Boosts your immune system and protects you against infections
Protects your eyesight from night blindness and age-related decline
Be able to start a family with the person you love most (increase fertility)
No need to try so hard in the toilet anymore (reduce constipation)
Get a stronger, healthier kidney
Reduces symptoms of menopause (hot flushes, night sweat, etc.)
Fires up your metabolism and fat-burn
To sum it up, these are all the benefits you can enjoy and experience when you take one sachet of Sacha Inchi Oil each day.
Can pregnant women and breastfeeding drink ?
Yes. In fact it is encouraged. Sacha Inchi Oil is rich in fatty acids and it's important in pregnant and breast feeding women. During pregnancy, the mother transfers her reserves of fatty acids to the fetus for its brain to form, thus giving rise to cases of post-partum depression due to diminished levels of these acids in her body.
Post-partum depression is effectively treated by supplementing the diet, during pregnancy, with foods rich in fatty acids. The advantage of this type of treatment is that, along with being antidepressants, the fatty acids are completely harmless, causing no side effects, and moreover, allow the proper development of the brain in the fetus during pregnancy.
Omega-3 Supplementation during pregnancy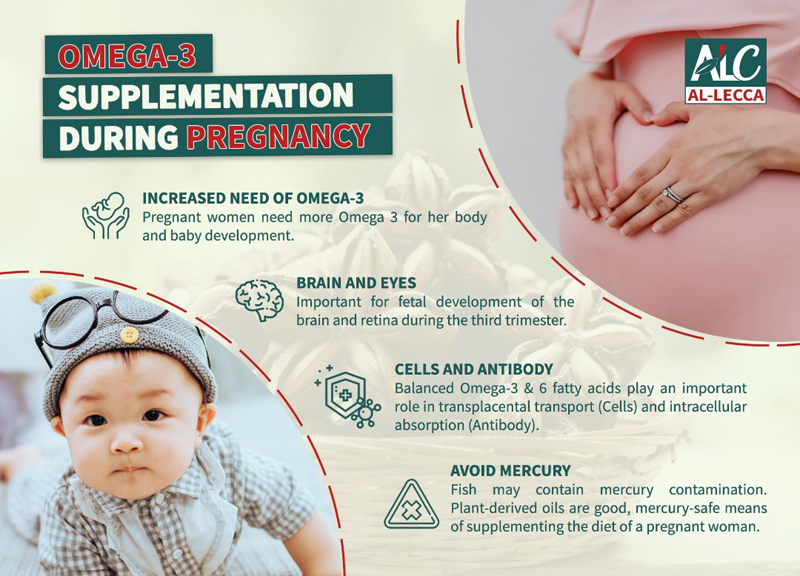 Importance of Omega-3 intake during pregnancy
How to use AL-LECCA's Sacha Inchi Oil:
1. A spoonful twice a day flushes out the bad fats
2. Consume 1 tablespoon (10ml) directly in the morning and night or can be enjoyed by adding it into salads, sauces, soups, sandwiches, pasta, beverages, porridge, any hot or cold dish
3. General Health: 1 tablespoon or 2 sachets a day either morning and/or night
4. Diabetic, Heart, Cholesterol Issues: 2 tablespoon or 4 sachets a day – either morning or night
5. Skin, Hair Issues: 1-2 tablespoon or up to 4 sachets a day – either morning or night. Apply lightly on affected areas.
6. Trouble Sleeping, Stress: 1 tablespoon or 2 sachets at night.
HALAL Certificate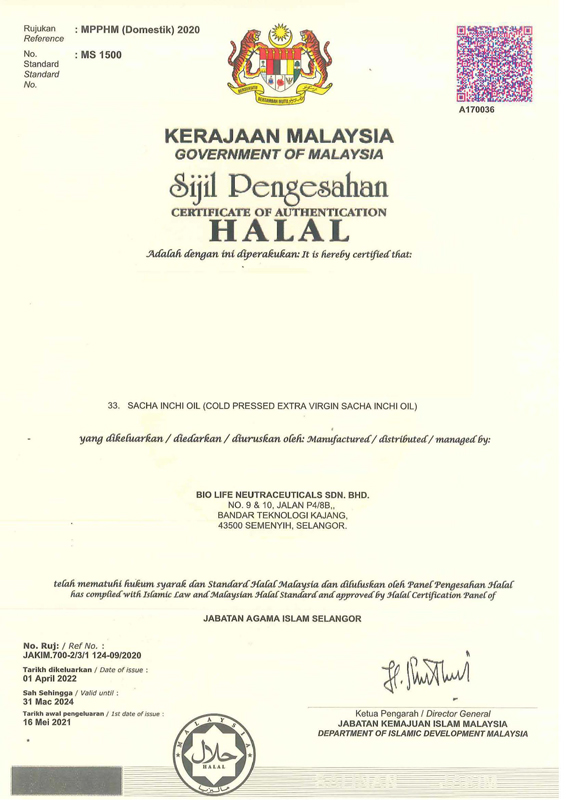 About the Brand -- AL-LECCA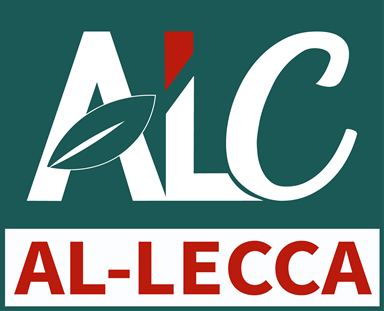 AL-LECCA is an integrated health foods manufacturer and distributor in Malaysia. It is principally involved in agricultural development, manufacturing, distribution and marketing of functional food and health supplement products under Original Design Manufacturer (ODM) and Original Brand Manufacturer (OBM) basis.
Health foods products comprise of processed herbs, formulated ingredients, functional foods as well as herbal and non-herbal health supplements, which offer a variety of health benefits including detoxification, boosting immune system, regulating blood glucose levels, promoting skin and hair growth, enhancing eye, brain, joint and heart health, as well as beauty benefits such as anti-aging and weight management.

Product Availability
This is a BACKORDER item.
Please take note that the waiting time for Backorder items is around 1-3 weeks from the date of payment, subject to stock availability. For orders outside Malaysia, there might be a shipment delay especially during peak holiday seasons. We will try our best to expedite all orders but in any cases that Backorder is cancelled, full cash/credit refund will be given. We sincerely appreciate your kind understanding and patience.
Our Nutritionist Says
Considered by many as 'superfood' due to its excellent nutritional profile. Versatile oil – sautéing, frying, dressing & even as a skin care.
PREGNANT MOM:
Highly encouraged for mom-to-be. Sacha inchi oil is rich in omega 3,6 & 9 fatty acids, which are important for brain, eye and heart development of fetus.
Sachet-form makes more convenient for pregnant mother to consume anytime.