Product Details
High dietary fiber
Boost metabolism
High antioxidant
High protein
Anti inflammation
Essential fatty acids
Multivitamin & minerals
High phytochemicals, carotenoid, zeaxanthin & lutein
Benefits of Multigrain with Sacha Inchi Oil
Promote hair growth & colour.
Treat headaches & migraines.
Improve memory.
Promote better sleep, relieve anxiety & depression.
Balance hormones.
Improve immune system.
Improve blood circulation.
Better digestions.
Prevent gastric.
Prevent constipation.
Reduce vaginal discharge.
Promote wound healing.
Protect eyes from harmful blue light.
Prevent macular degeneration & cataracts.
Moisturize skin.
Anti-aging.
Lower cardiovascular diseases.
Lower bad cholesterol.
Increase red blood cell counts.
Fight against cancer.
Reduce heatiness & cough.
Detoxify kidneys & livers.
Remove dampness & water retention in kidney.
Protect & prevent fatty liver.
Regulate blood sugar level.
Maintain bone health & strength.
29 Super Grains & Vegetables + Sacha Inchi Oil
Sacha Inchi Oil
Great source of essential omega-3 and omega-6 fatty acid. These healthy fats are important for overall health.
Brain health: Healthy fats in the sacha inchi oil are essential to for brain cells membrane and fight inflammation which in excessive may cause depression, fatigue and poor memory.
Anti-inflammation: The omega-3 fatty acid helps to combat inflammation such as eczema, headaches and arthritis pain.
Heart Health: It improves blood circulation while lowering blood pressure and cholesterol.
Bone Health: The omega-3 help the body to absorb calcium and improve bone density.
Organic Soy
Provide high quality plant protein with all essential amino acids for growth and development.
Contain omega-3 fatty acid which are linked to lower risk of cardiovascular diseases.
Contain soy isoflavones that have similar structure to female hormone which may help to relieve menopausal symptoms.
Brown Rice
Whole grain with complete nutrients
Brown rice has higher protein, fat, fiber and vitamin B1 than white rice.
Contain germ oil, vitamin B and trace minerals that help to boost metabolism.
Contain antioxidants to protect cells from free radical damage and regulate monounsaturated fatty acids.
Pearl Barley
Barley (Pear barley/ Job's Tears) is a whole grain packed a range of vitamins, minerals and other beneficial plant compounds.
It is rich in dietary fiber which are responsible for better digestion and prevent constipation.
Rich in phytonutrients including lignans, plant sterol and saponin as antioxidants linked to help protect against diseases.
Oats
Beta-glucan (soluble fiber) in oat may help to reduce cholesterol level.
Beta-glucan helps regulate blood sugar level by releasing sugar slowly and improve insulin responses.
The soluble dietary fiber can improve digestive health and relieve constipation.
High antioxidant, lignin protects against cancers and heart diseases.
Buckwheat
Is a whole grain with high nutritional value.
Buckwheat has higher protein, fat and vitamin B than rice, wheat and other legumes.
Contain choline and lutein which can protect alcohol damage to the liver and prevent gastric ulcer.
Black Bean
Black bean has high iron content amongst all beans. Iron is an essential element for blood production.
The iron, phosphorus, calcium and magnesium in black beans contribute to build and maintain healthy bone structure and strength.
Contain quercetin and saponins which can protect the heart.
Good for remove dampness to smooth edema and water retention in kidney.
Black Sesame
Contain calcium, magnesium and copper for strengthen bones and joints.
Rich in antioxidant such as sesamin and sesamolin essential for heart health which can help lower cholesterol level.
It also helps improve memory, healthy hair growth and hair color.
Red Bean
Beans are packed full range of vitamins and minerals for overall health.
They provide high quality protein with all essential amino acids for growth and development.
They contain fiber to promote digestive and prevent constipation.
Contain antioxidants to prevent premature aging.
Green Bean
Beans are packed full range of vitamins and minerals for overall health.
They provide high quality protein with all essential amino acids for growth and development.
They contain fiber to promote digestive and prevent constipation.
Contain antioxidants to prevent premature aging.
Rice Bean
Beans are packed full range of vitamins and minerals for overall health.
They provide high quality protein with all essential amino acids for growth and development.
They contain fiber to promote digestive and prevent constipation.
Contain antioxidants to prevent premature aging.
Flower Bean
Beans are packed full range of vitamins and minerals for overall health.
They provide high quality protein with all essential amino acids for growth and development.
They contain fiber to promote digestive and prevent constipation.
Contain antioxidants to prevent premature aging.
Green Pea
The fiber and a phytochemical called coumestrol in peas help in maintaining a good digestive health.
Contain insoluble fiber help reduce the risk of heart diseases and stroke.
Peas are packed with carotenoid and lutein to protect eyes from harmful blue light, which contribute to macular degeneration and cataracts.
Corn
One of the world's most popular cereal grains
It has a both soluble and insoluble fiber that can improve digestion by making stool soft, increase bowel movement and regularity.
Contain phenolic phytochemicals that control the release of insulin to help regulate blood sugar level.
Corn has carotenoids such as lutein and zeaxanthin act as natural filter to protect the eyes from blue light damage.
Pine Nut
Edible seeds of pine tree.
Contain healthy fats and plant sterol that help lower bad cholesterol and protect heart.
The omega-3 in pine nut can help improve thinking ability and blood flow to brain which may improve cognition and reduce risk of dementia.
The antioxidants and vitamin E in pine nut help in moisturizing the skin and prevent aging to keep skin healthy.
Gingko Nut
Often used as an herbal remedy that associated with several health claims.
It has the ability to reduce inflammation including arthritis.
It may increase enhance brain function in better memory and focus.
Because of its ability to improve blood circulating and reduce inflammation, ginkgo also may be an effective treatment for headaches and migraines.
Walnut
Walnuts have higher antioxidants than other nuts that can help fight oxidative damage such as anti-aging and beauty skin.
A great source of essential fatty acids omega-3 and omega-6 which may help improve brain functions in memory and cognitive; decrease cholesterol level to reduce risk of heart diseases.
Walnuts help hair and nails grow stronger and longer as well as reduce hair loss.
Lotus Seed
Often used in Chinese traditional medicine in treatment of inflammation, skin diseases, insomnia, poor digestion and many ailments.
The enzymes in lotus seeds help in boosting collagen synthesis for enriching skin complexion and slow down aging.
Lotus seeds can detoxify the kidneys and liver to eliminate wastes and prevent their accumulation in body.
The isoquinoline alkaloids in lotus seeds has relaxing and calming effects to nervous system to promote better sleep, relieve anxiety and depression.
Lily Turf
Effective for supply moisture to reduce heat and cough symptoms.
Chinese Yam
Often use in Chinese herbal medicine, traditionally target to stomach, spleen, lung and kidneys health such as poor appetite, dry coughs, frequent urination and diabetes.
Contain phytoestrogen acts much like estrogen (female hormone) to support hormone balance for women health such as relieve menopause symptom and premenstrual syndrome (PMS).
Chinese yam contains allantoin and mucilage both have healing effect to promote wound healing and soothes rashes and burns.
Euryales Seed
A Chinese medicine herbs for strengthen kidneys and tonify spleen to eases diarrhea, reduce dampness and excessive vaginal discharge.
Poria
It is a fungal herb for strengthen the spleen, stomach, liver and kidney functions such as ease diarrhea, clears heat and stimulate appetite.
The fiber contents stimulate bowel movement and relieve constipation.
Wolfberry Medlar
Medlar is a plant with strong vitality and energy which can reduce fatigue.
It can improve blood circulation, prevent arteriosclerosis and fatty liver.
Medlars contain a range of vitamins, essential amino acids and linolic acids which can promote metabolism and possess anti-aging effects.
Lily Bulb
Contains natural organic acids and pectin that is good for health.
It can strengthen the functions of heart and lungs, as well as nourish the stomach and spleen to relieve coughs, sore throats and clear heat.
Sorghum
Is an ancient cereal grain. It can strengthen the kidneys, spleen and stomach that used for relieve cough, mouth ulcer and clear heat.
Inulin
Inulin is a type of dietary fiber from chicory root. It acts as a prebiotic to feed the good bacteria in gut and help maintain a good intestinal environment to promote digestive health.
Beetroot
A root vegetable with associated with numerous health benefits
Rich in phytonutrients such as betaine to give beetroot natural strong red color and help reduce blood pressure and lower risk of heart attack and strokes.
It also helps to improve blood flow, lower bad cholesterol, stabilize blood sugar, treat anemia, boost stamina and reduce fatigue while strengthening bone health.
Pumpkin
Great source of beta carotene that responsible for orange color in pumpkin and then is converted into an essential vitamin A.
Pumpkin is plentiful in nutrients such as lutein, zeaxanthin and beta-carotene that have linked to strong eyesight and protect eyes from age-related macular degeneration (AMD) and cataracts.
Contain powerful antioxidant such as beta-carotene which may protect cells from the damage of free radicals.
Purple Sweet Potato
A root vegetable with highly nutritious in their skin and flesh.
Rich in anthocyanin to give its bright purple color which are powerful antioxidant linked to eyes and heart health as well as lower risk of chronic diseases.
It also contains resistant starch that resist digestion in small intestine and ferments in large intestine to feed the good bacteria for healthy gut.
Kale
Kale is a dark leaf vegetable, known as "the queen of greens" and "a nutritional powerhouse".
One of the world's best source of vitamin K, an essential vitamin for healthy blood clotting, heart and bone health.
This dark leafy green offers high lutein and zeaxanthin that act as natural filter to protect eyes from harmful blue light.
Contains high antioxidants, omega-3 fatty acids and fiber for support healthy heart, improve digestion, anti-inflammation and detoxification.
Multigrains for pregnancy & lactation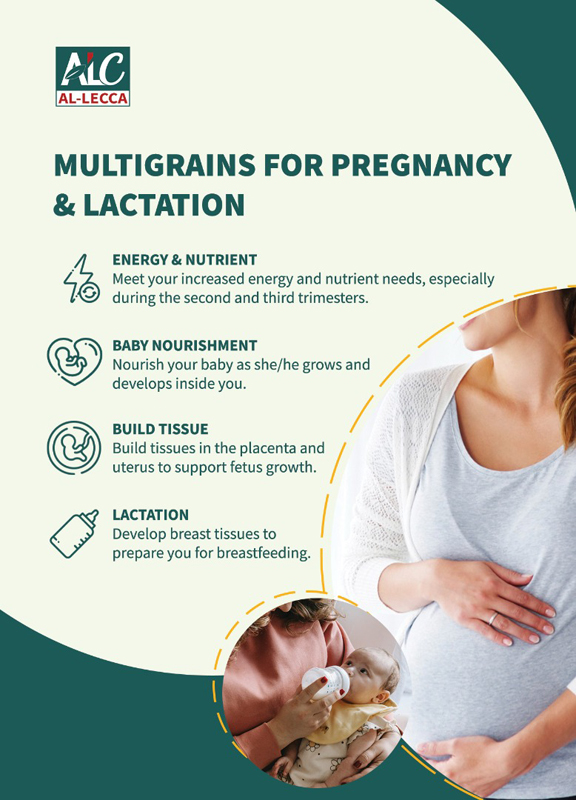 Ingredients
Organic soy, brown rice, barley, fructose, oat, buckwheat, black bean, black sesame, red bean, green bean, rice bean, flower bean, green pea, corn, pine nut, gingko, walnut, lotus seed, lily turf, chinese yam, euryales seed, poria, medler, lily bulb, sorghum, inulin, sacha inchi oil, beetroot, pumpkin, guar gum, purple sweet potato, kale.
Nutrition facts. Serving size: 25g
Nutrition Facts / Fakta Nutrisi


Per / Setiap 100 g
Per Serving / Setiap Hidangan 25 g
Energy/ Tenaga
kcal
411
102
Carbohydrate/ Tenaga
g
76.2
19.1
Dietary Fibre/ Serat
g
6.2
1.5
Protein
g
11.6
2.9
Total Fat / Lemak
g
6.6
1.6
saturated fat / lemak tepu
g
2.2
0.5
polyunsaturated fat / lemak tak tepu
g
2.5
0.6
Sodium / natrium
mg
53.3
13.3
Fatty Acids Composition / Komposisi Asid Lemak
Omega-3
mg
1200
300
Omega-6
mg
1200
300
Omega-9
mg
180
45
How to serve
Normal serving: Add 2 scoops (about 25g) into 150 ml of warm water. Stir well and serve.
Mix into milk for kids: Add 1 scoop into milk + 150ml warm water
Allergen - Soy, oats and nuts.
HALAL Certificate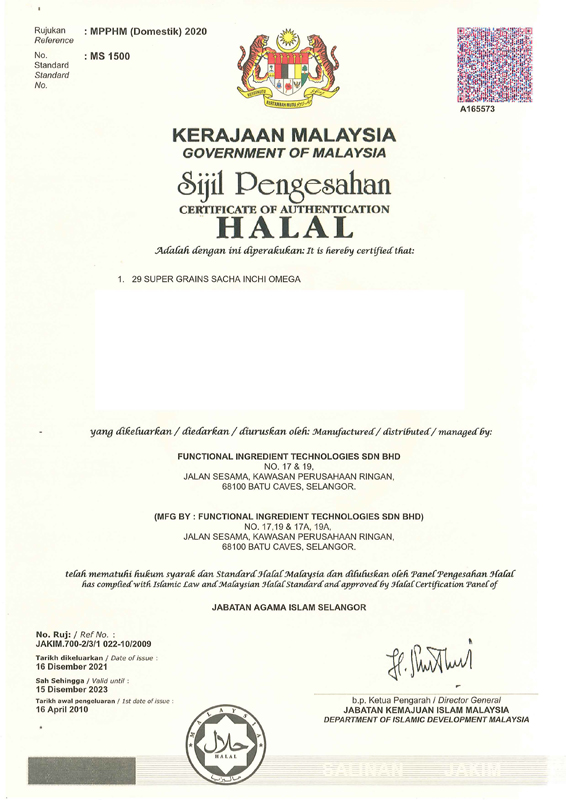 About the Brand -- AL-LECCA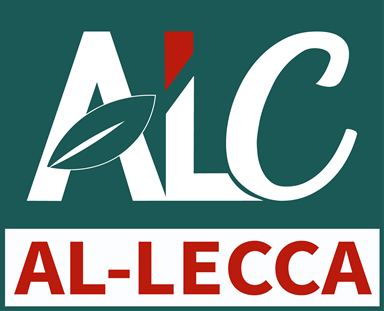 AL-LECCA is an integrated health foods manufacturer and distributor in Malaysia. It is principally involved in agricultural development, manufacturing, distribution and marketing of functional food and health supplement products under Original Design Manufacturer (ODM) and Original Brand Manufacturer (OBM) basis.
Health foods products comprise of processed herbs, formulated ingredients, functional foods as well as herbal and non-herbal health supplements, which offer a variety of health benefits including detoxification, boosting immune system, regulating blood glucose levels, promoting skin and hair growth, enhancing eye, brain, joint and heart health, as well as beauty benefits such as anti-aging and weight management.

Product Availability
Ready Stock.
Expiry date: 3.2024
Our Nutritionist Says
Instant way to enjoy the goodness of both multigrain and sachainchi through this drink. Of course it's suitable for everyone and highly recommended for vegans as a great sources of vegetarian protein.
PREGNANT MOM:
A perfect wholesome nutritional beverage for preggy mommies.
Goodness of multigrain, to meet the increased energy & nutrient needs during pregnancy.
Sacha inchi oil is rich in omega 3,6 & 9 fatty acids, which are important for brain, eye and heart development of fetus.