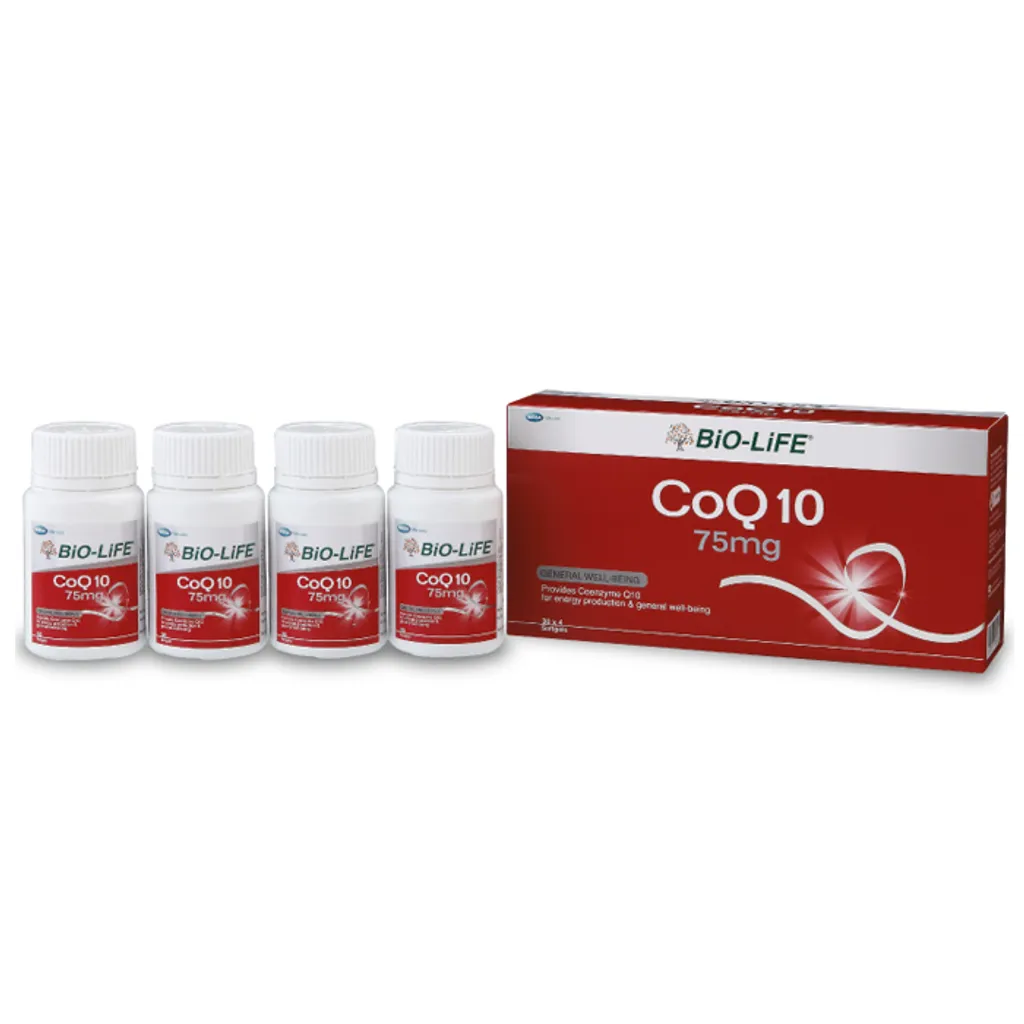 BiO-LiFE CoQ10 75mg (30 capsules x 4) - Best before 03.2022
Product Details
Coenzymes Q occur in the majority of aerobic organisms, from bacteria to plants and animals. It is found in the mitochondria, or the power plants where a series of complex biochemical reactions take place, resulting in the formation of energy needed to support life.
Apart from being an essential ingredient in the body's production of energy, there are many biological functions of CoQ10, which include:
Power antioxidant
CoQ10 is a potent antioxidant and several studies have demonstrated its ability to protect LDL from oxidation in the body

Strengthen the immune system
CoQ10 has also found to be useful for immunosuppressive diseases such as cancer and AIDS

Improve disease status
Any disease that classically display reduced energy production or muscle function are most receptive to CoQ10 therapy. This include heart failure, muscular degeneration, neurodegenerative disesase and Chronic fatigue syndrome.
Each capsule contains:

Coenzyme Q 10 (Ubidecarenone)

75mg
Dosage:
Adult: Take one capsule twice daily with food or as recommended by our nutritionist.
Contra-indications/Caution:
If you are on warfarin theraphy, please seek medical advice before using

Pregnant women and nursing mother should avoid CoQ10 supplements
Suitable for vegetarians
ABOUT THE BRAND
BiO-LiFE Marketing is a growing healthcare subsidiary within Global Swiss Multinational (MNC) corporation DKSH Ltd, the leading Market Expansion Services provider with a focus on Asia.

BiO-LiFE with 25 years of experience and counting in the natural healthcare industry has a team that includes nutritionists, biochemists, food technologists and microbiologists. Since 1990 in Malaysia, BiO-LiFE has been synonymous with quality, safe and efficacious health supplements from Australia and United Kingdom.
A leader in natural healthcare & holistic therapies. BiO-LiFE name represents a range of nutritional supplements & herbal remedies based on scientific evidence & built on a strong foundation of QUALITY • SAFETY • EFFICACY. Working closely with nature, BiO-LiFE's products are specially formulated to meet the needs and expectations of today's modern lifestyle.
Product Availability
Ready Stock.
Expiry date: 3.2022
---