Product Details
Are Your Kids
Fussy & picky eater?
Do not like to consume fish?
Under-achieve at school?
Having poor concentration & memory?
YUMMY GUMMIES, HEALTHY GROWING
Let's Explore The Benefits of Kid's Gummies For Your Kids
Vitamin A
Involved in immune function, vision, reproduction and cellular communication.
Vitamin B5
Important for our body to properly use of carbohydrates, proteins and lipids and for healthy skin.
Vitamin B6
Needed for normal brain development and function.
Vitamin B12
Important in maintaining healthy nerve cells.
Vitamin D3
Promotes bone and tooth formation and helps the body absorb calcium.
Vitamin E
Needed to protect red blood cells and overall health.
Folic Acid
Required to produce healthy red blood cells and prevents anemia.
Biotin
Needed by the body to metabolize carbohydrate, fat and amino acids.
Iodine
Needed by thyroid gland to produces the hormones that control metabolism, growth and development.
Zinc
Needed for normal growth and health such as wound healing, vision, fight infections and reproductive organs.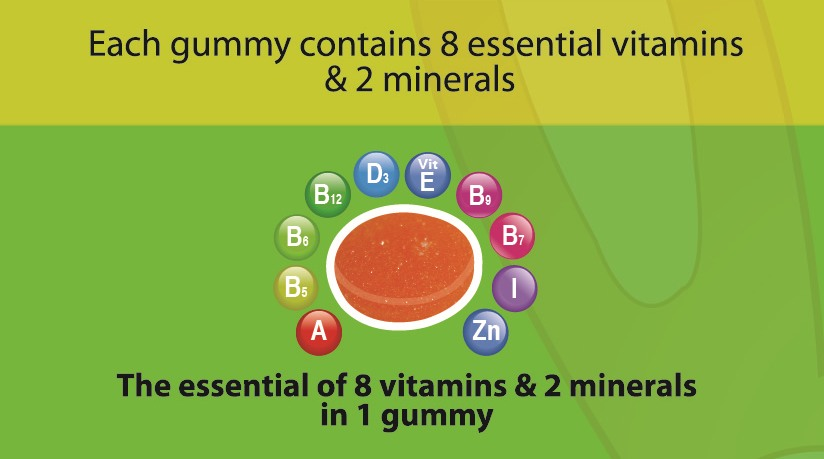 About the brand

BiO-LiFE Marketing is a growing healthcare subsidiary within Global Swiss Multinational (MNC) corporation DKSH Ltd, the leading Market Expansion Services provider with a focus on Asia.

BiO-LiFE with 25 years of experience and counting in the natural healthcare industry has a team that includes nutritionists, biochemists, food technologists and microbiologists. Since 1990 in Malaysia, BiO-LiFE has been synonymous with quality, safe and efficacious health supplements from Australia and United Kingdom.
A leader in natural healthcare & holistic therapies. BiO-LiFE name represents a range of nutritional supplements & herbal remedies based on scientific evidence & built on a strong foundation of QUALITY • SAFETY • EFFICACY. Working closely with nature, BiO-LiFEe's products are specially formulated to meet the needs and expectations of today's modern lifestyle.
Product Availability
Ready Stock.
Expiry date: 2.2024