Product Details
Are Your Kids
Fussy & picky eater?

Do not like to consume fish?

Under-achieve at school?

Having poor concentration & memory?
YUMMY GUMMIES, HEALTHY GROWING
Let's Explore The Benefits of Kid's Gummies For Your Kids
DHA is the most abundant in brain and consider as the structural component of the brain
DHA is essentially important for development and function of the brain.
Improves symptoms of Attention Deficit/ Hyperactivity Disorder (ADHD)
DHA/EPA supplementation found to reduce symptoms of ADHD. Children with ADHD may have low level of certain essential fatty acid.
Improves cognitive function
Long chain Polyunsaturated Fatty Acids (Omega-3) supplementation improved performance on means-end problem.
Study revealed a significant improvement of working memory function was found when comparing the EPA/DHA group with the placebo group.
Improves in reading ability
DHA supplementation linked to higher reading scores in children.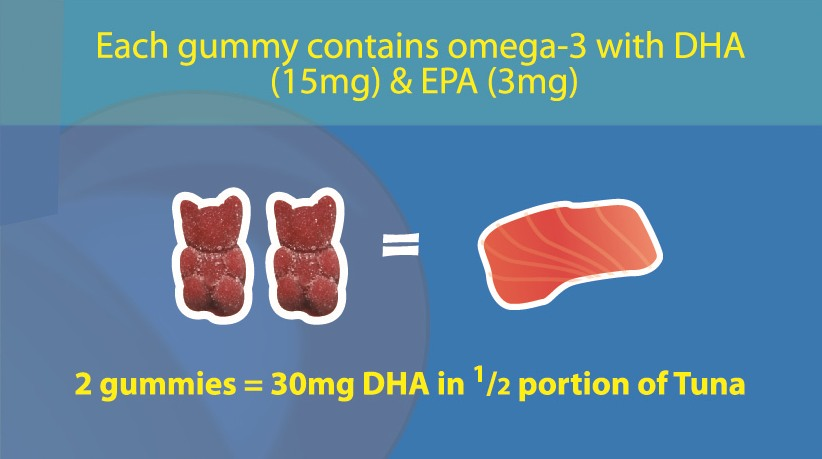 About the brand

BiO-LiFE Marketing is a growing healthcare subsidiary within Global Swiss Multinational (MNC) corporation DKSH Ltd, the leading Market Expansion Services provider with a focus on Asia.

BiO-LiFE with 25 years of experience and counting in the natural healthcare industry has a team that includes nutritionists, biochemists, food technologists and microbiologists. Since 1990 in Malaysia, BiO-LiFE has been synonymous with quality, safe and efficacious health supplements from Australia and United Kingdom.
A leader in natural healthcare & holistic therapies. BiO-LiFE name represents a range of nutritional supplements & herbal remedies based on scientific evidence & built on a strong foundation of QUALITY • SAFETY • EFFICACY. Working closely with nature, BiO-LiFEe's products are specially formulated to meet the needs and expectations of today's modern lifestyle.
Availability
This is a BACKORDER item.
Please take note that the waiting time for Backorder items is around 1-3 weeks from the date of payment, subject to stock availability. For orders outside Malaysia, there might be a shipment delay especially during peak holiday seasons. We will try our best to expedite all orders but in any cases that Backorder is cancelled, full cash/credit refund will be given. We sincerely appreciate your kind understanding and patience.