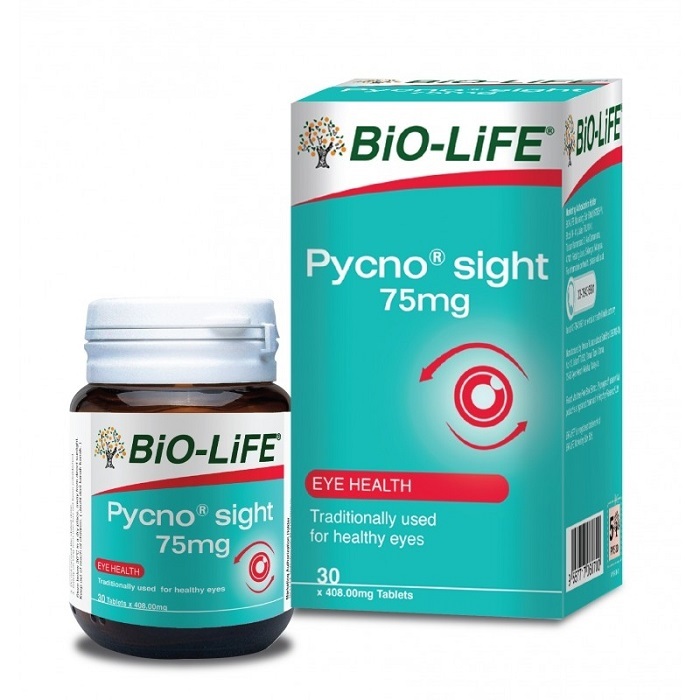 BiO-LiFE Pycno®sight (Diabetic Retinopathy) --30 tablets
Product Details
According to World Health Organization (WHO), one of the leading causes of visual impairment in middle-income and industrialized countries is diabetic retinopathy. Uncontrolled blood glucose management is the primary factor of diabetic retinopathy. This is because uncontrolled blood glucose level increases the production of free radicals and oxidative stress in the body. Those radicals cause damage to nerve and retinal capillaries and eventually may lead to loss of vision.
BiO-LiFE Pycno®sight contains standardized extract of Pycnogenol® which consist of potent antioxidant that helps to protect eye from oxidative stress damage. Pycnogenol® is clinically proven in supporting eye health especially diabetic retinopathy by improving the blood glucose management, strengthening the retina blood vessels and enhancing the blood micro-circulation of the retina in diabetic patients. Pycnogenol® is a natural potent and safe antioxidant that effectively stops the progression of the retinopathy and protects cells and tissues from ageing eyes.
BiO-LiFE Pycno®sight is suitable for all adults and especially adults with long history of diabetes and uncontrolled blood glucose levels. It is also suitable for individuals who are long-hourly active in outdoors activities.
Each tablet contains:

French Maritime Pine




(Pinus pinaster) Bark Extract standardized to 65% procyanidins

75mg
Dosage:
Adult: One tablet daily after food.
Contra-indications/Caution:
None known.
Product of France
ABOUT THE BRAND
BiO-LiFE Marketing is a growing healthcare subsidiary within Global Swiss Multinational (MNC) corporation DKSH Ltd, the leading Market Expansion Services provider with a focus on Asia.

BiO-LiFE with 25 years of experience and counting in the natural healthcare industry has a team that includes nutritionists, biochemists, food technologists and microbiologists. Since 1990 in Malaysia, BiO-LiFE has been synonymous with quality, safe and efficacious health supplements from Australia and United Kingdom.
A leader in natural healthcare & holistic therapies. BiO-LiFE name represents a range of nutritional supplements & herbal remedies based on scientific evidence & built on a strong foundation of QUALITY • SAFETY • EFFICACY. Working closely with nature, BiO-LiFE's products are specially formulated to meet the needs and expectations of today's modern lifestyle.
Product Availability
Ready Stock
Expiry date : 1.2020
Customer comments
| Author/Date | Rating | Comment |
| --- | --- | --- |
---