Product Details

Power Up Your Second Brain (Gastrointestinal) With The Little Creatures Behind The Microscope
BIOBAY Yogard is a unique formulated probiotic supplements that consists of bacteria from 10 strains that are specially chosen to benefit you. It contains 60 billion CFU/g of probiotics. All strains are stable and able to survive in alkaline bile salt and stomach acid.
Why YOGARD is so unique?
1. Extensively Studied - The effectiveness of the strains were well documented and were proven as GRAS by FDA.
2. Variety & Concentration Wise - Eash capsule contains 10 probiotics strains with 60 billion CFU/g equal to 20 billion in just 1 dose.
3. High Survival Rate - All the strains are able to survive in the alkaline bile salt & stomach acid.
4. Friendly - No milk products were included into the production, suitable for individuals who suffering from lactose intolerance.
Why do you need YOGARD?
Contains 7 potential probiotics strains which have been extensively studied, high survival rate
Dairy free
One capsule contains 20 billion CFU probiotics, sufficient to provide with different types of benefits:

Reduce digestive disorders
Balance up gut microflora
Boost up immunity
Reduce inflammation
Improve cognitive & emotional control
Ingredients: Lactobacillus paracasei LPC-37 5mg, Lactobacillus plantarum LP-115 5mg, Lactobacillus casei LC-11 6.67mg, Lactobacillus salivarius LS-33 6.67mg, Lactobacillus acidophilus LA-14 10mg, Lactobacillus rhamnosus LR-32 10mg, Bifidobacterium lactis BL-04 8mg, Bifidobacterium longum BL-05 10mg, Bifidobacterium bifidum BB-06 10mg, Streptococcus thermophilus ST-21 5mg, Fructooligosaccharides 17.5mg.
Is suitable for people who wish to: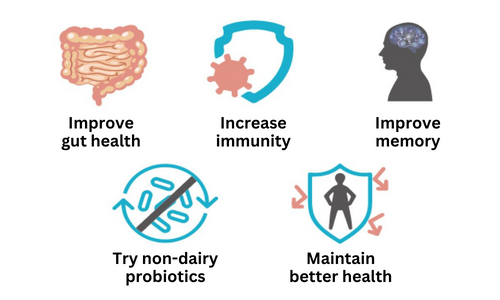 Direction for use:
Adult: 1-2 capasules once per day.
About The Brand –BIOBAY

A trusted brand for health foods and supplements in Malaysia that won various awards. We are the trusted partner for your health betterment.
Product Availability
This is a BACKORDER item.
Please take note that the waiting time for Backorder items is around 1-3 weeks from the date of payment, subject to stock availability. For orders outside Malaysia, there might be a shipment delay especially during peak holiday seasons. We will try our best to expedite all orders but in any cases that Backorder is cancelled, full cash/credit refund will be given. We sincerely appreciate your kind understanding and patience.
Our Nutritionist Says
Unlike most other probiotic supplement in the market, this supplement incorporates both probiotic and prebiotic (FOS), to support the overall growth of healthy bacteria in the digestive tract. Additionally, the type of strain selected are no-nonsense (supported from extensive studies).