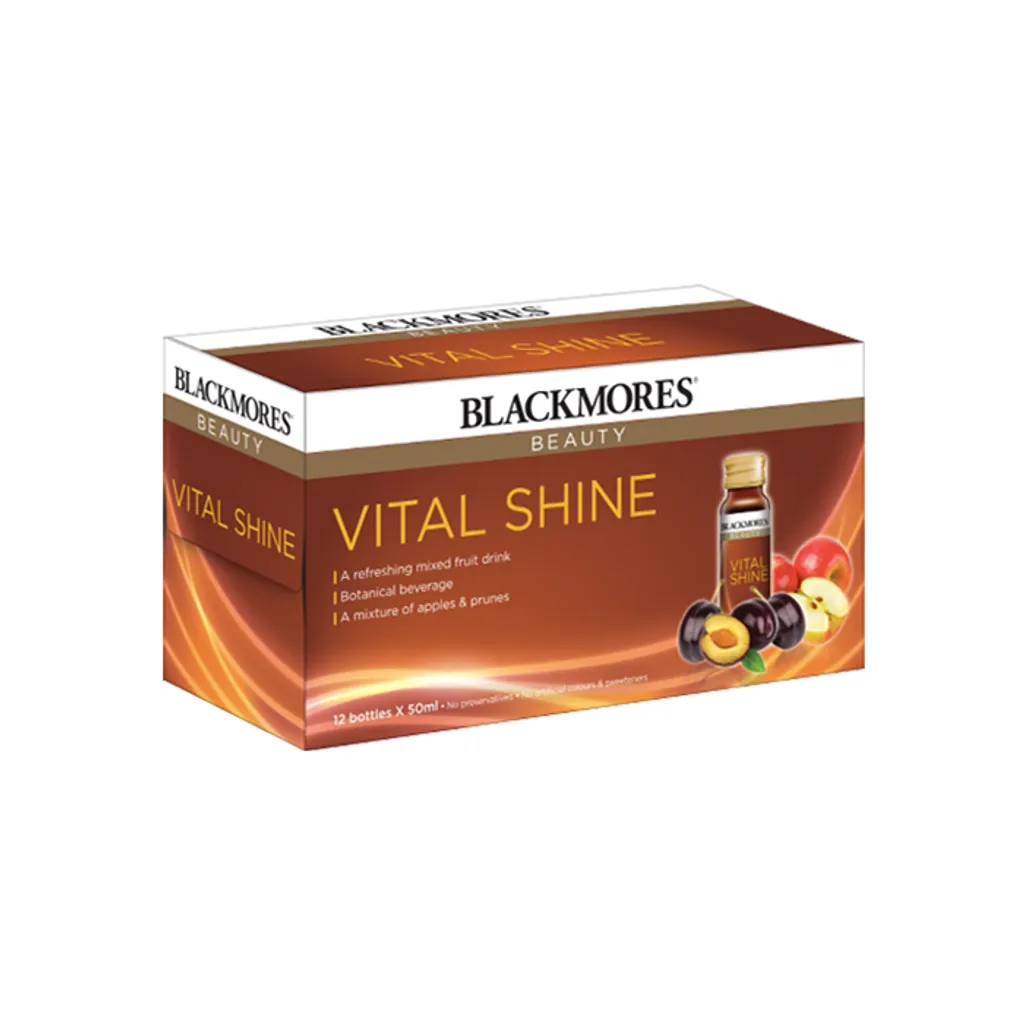 Blackmores Vital Shine (12 bottles x 50ml)
Product Details
Nourishes, strengthens and protects hair. Blackmores Vital Shine is a concentrated botanical essence made from mulberry fruit extract, bamboo shoots, millets, white tea and sea buckthorn.

Hair loss, premature greying and split end hairs are common as we age. Blackmores Vital Shine, re-formulated for Asian hair, is made with all-natural hair from within. Strong healthy hair will make you look younger and beautiful.
Features
Natural with no preservatives and no artificial colours or sweeteners
Effective
High quality
Refreshing with delicious fruity taste
Nourishing scalp and hair follicles
Halal Certified
Suitable for vegetarian
Dosage
One bottle a day for maximum benefits.
Blackmores Vital Shine is suitable for anyone above 12 years of age. Seek for medical professional advice if you are pregnant or breastfeeding.
Active Ingredients:
Key Ingredients and its Benefits.
Millet
Strengthening hair roots, prevent hair loss.
Rich in fiber, iron, B-vitamins, silica, manganese, phosphorus, and magnesium.
Increases blood circulation to the hair roots, resulting in hair growth and stronger hair.
Bamboo shoots extract
High in bioavailable silica.
Silica is essential to build stronger hair, prevent brittle hair.
Silica helps to facilitate the formation of collagen in the body.
White tea extract
Higher content of antioxidants including polyphenols.
Polyphenols help to prevent hair loss
Mulberry
Very rich in antioxidant proanthrocyanidin.
Traditionally been used for hair loss.
Protects hair colour, slows premature greying.
Sea buckthorn
Rich in vitamins, calcium, magnesium, iron, phosphorus and the mono and polyunsaturated oil, especially the linolenic acid and alpha linolenic acid.
Linolenic acid is important for skin metabolism, regulates scalp production and reduces inflammation. Healthy scalp is important to maintain healthy follicle and generate healthy hair.
Blackmores Vital Shine is certified HALAL by the Taiwan Halal Integrity Development Association (THIDA), which is recognized as a halal certified body by JAKIM, Malaysia.
About The Brand – BLACKMORES

Started in Queensland, Australia in the 1930s, BLACKMORES improves peoples' lives by delivering the world's best natural health solutions, to become peoples' first choice in healthcare. For over 80 years BLACKMORES has combined scientific evidence with traditional knowledge to offer people a more natural approach to health.
As Australia's leading natural health brand, BLACKMORES' products are developed by a highly experienced and dedicated team of formulators including naturopaths, chemists, scientists and product development pharmacists.
BLACKMORES experts use the highest quality ingredients from around the world and made to exacting requirements under the international Pharmaceutical Inspection Convention and Pharmaceutical Inspection Co-operation Scheme (PIC/s) standards of good manufacturing practice (GMP).
Trust has to be earned not bought and we recognise that consumers put their trust in us when it comes to their health.
Product Availability
This is a BACKORDER item.
Please take note that the waiting time for Backorder items is around 1-3 weeks from the date of payment, subject to stock availability. For orders outside Malaysia, there might be a shipment delay especially during peak holiday seasons. We will try our best to expedite all orders but in any cases that Backorder is cancelled, full cash/credit refund will be given. We sincerely appreciate your kind understanding and patience.
---