Cherub Rubs Organic Face Towel
Product Details
100% organic cotton, no chemical bleaching or dye.
Country of origin: Australia
Size – 28 x 29.5cm
100% organic cotton, no chemical bleaching or dye.
Gentle on sensitive skin.
Why use organic cotton?
Cotton is often seen as a 'natural' product. However, it is estimated that conventional cotton production accounts for almost one quarter of global insecticide use. The pesticides used in cotton are some of the most toxic chemicals in the world
Growing conventional cotton requires the use of enormous amounts of chemical pesticides & fertilisers and has high water usage for irrigation. The net result – a huge environmental impact along with potential health risks for you and your family
Conversion of conventional cotton into clothes & textiles again utilises toxic chemicals at each stage – silicone waxes, harsh petroleum scours, softeners, brighteners, heavy metals, flame and soil retardants, ammonia and formaldehyde – to name just a few
Organically grown cotton is cotton grown in soil that has been certified free from pesticides & fertilisers for at least three years
Organic farming uses less fossil fuels than conventional agriculture and works alongside nature to help reduce the impact of reaching our air, soil and water
Organic cotton is the natural choice for baby's delicate and sensitive skin; it's pure, strong and super soft
About The Brand -- Cherub Rubs

100% Australian Made and Owned
Certified Organic
Certified Toxic-Free
Clinically Tested for use on sensitive skin
Millions of products sold
Trusted by families & pediatricians worldwide
Cherub Rubs is one of the few fully certified organic skin care ranges in the world, using not just natural ingredients, but ingredients that are certified organic. It provides concerned parents with one of the most natural skin care ranges in the world as an alternative to steroid-based treatments for dry skin conditions. The products are approved in Australia for use with all children under 3 years old and are recommended by health professionals in Hong Kong, Singapore, South Korea and Taiwan.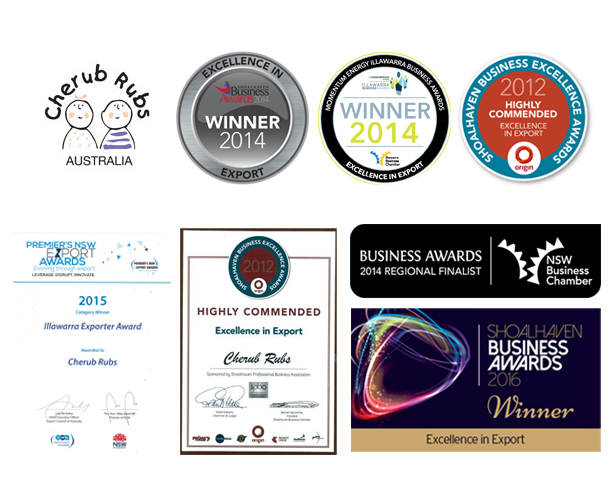 Product Availability
Ready Stock.
---