Product Details
Formulated with certified ingredients without chemicals, this non greasy tummy balm gently nourishes the skin and helps to rejuvenate the tummy and other skin areas especially during and after pregnancy. Can be used for the whole body and face.
Product Highlight
Nourishing and rejuvenating.
Quality
Specially formulated skin care range for every mom and mom to be.
Fully certified organic, contains at least 95% certified organic ingredients.
Contains cold pressed essential oils and plant oils with proven traditional healing effect on skin problems such as eczema.
100% free from petrochemicals, parabens, mineral oils, DEAs, PEGs, SLS, artificial fragrance, colours and preservatives.
Country of Origin
Australia

Ingredients
Chamomile floral water*, cetearyl alcohol/ceteareth-20, Simmondsia chinensis (Jojoba) oil*, vegetable glycerine, Theobroma cacao (Cocoa) seed butter*, Butyrospermum parkii (Shea butter)*, beeswax*, Rosa canina (Rosehip) oil*, Triticum vulgare (Wheatgerm) oil*, almond and vanilla extract.
*certified organic
Note: Due to the high concentration of organic ingredients there may be some variation in batches.
Benefits: This multipurpose oil contains
Chamomile floral water: gently soothes and softens the skin.
Jojoba oil: Nourishes and softens the skin; easily absorbed by the skin due to its close structure to skin's natural sebum.
Cocoa butter & Shea butter: rich in fatty acids and antioxidants which improve skin moisture retention and elasticity.
Beeswax: moisturises, softens and protects the skin from damaging environmental factors .
Rosehip oil: reduces scaring and promotes skin regeneration.
Wheatgerm oil: Rich in vitamin E which maintain skin elasticity prevent stretch mark and reduce wrinkles and scarring.
Can be applied to whole body and face.
Suitable for all skin types, including sensitive skin.
Great to use before and after pregnancy.
Storage Instructions: Store at cool dry place.
Usage Instructions: Use liberally and frequently as desired.
About The Brand -- Cherub Rubs

100% Australian Made and Owned
Certified Organic
Certified Toxic-Free
Clinically Tested for use on sensitive skin
Millions of products sold
Trusted by families & pediatricians worldwide
Cherub Rubs is one of the few fully certified organic skin care ranges in the world, using not just natural ingredients, but ingredients that are certified organic. It provides concerned parents with one of the most natural skin care ranges in the world as an alternative to steroid-based treatments for dry skin conditions. The products are approved in Australia for use with all children under 3 years old and are recommended by health professionals in Hong Kong, Singapore, South Korea and Taiwan.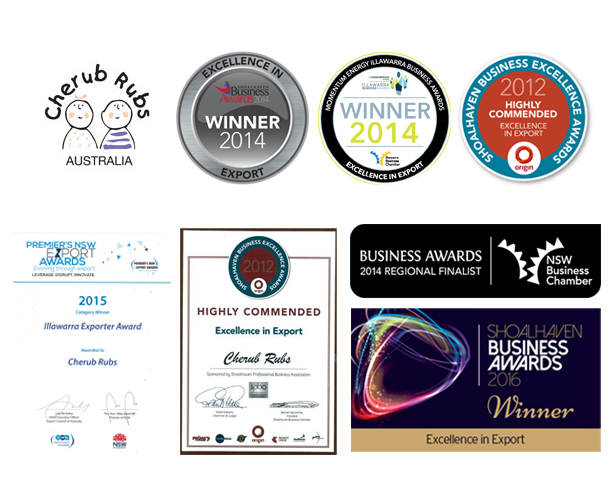 Product Availability
oos