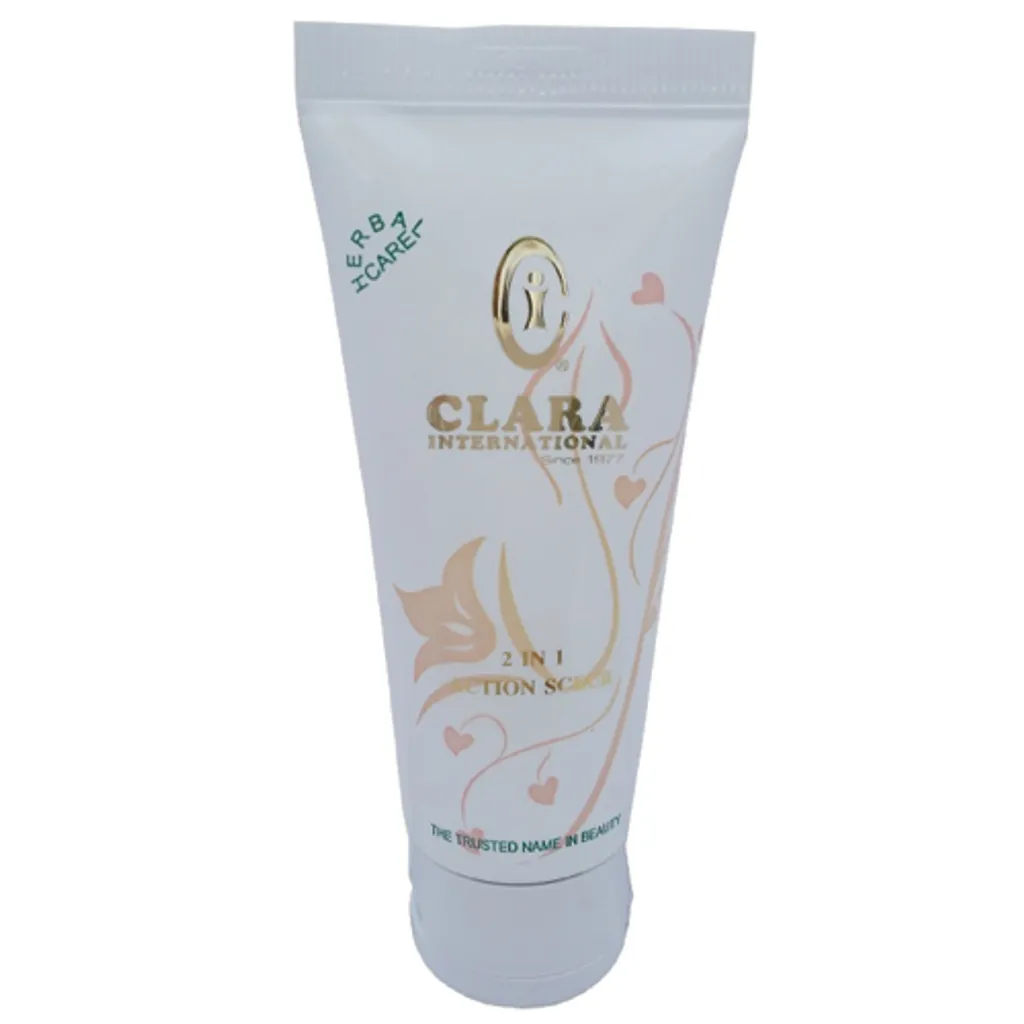 CLARA 2 IN 1 Action Scrub (50ml)
Product Details
This revolutionized range is newly innovated and consists of specialized products that helps achieve a firmer, toned and perfect contour line. It contains Phytoamine Bio-complex, a high active ingredient that effectively rescues the appearance of cellulite while effectively burning away unwanted fat. Sculpt your silhouette and gain a healthier looking figure.
2 IN 1 ACTION SCRUB
A mild scrub cream for body / face which contains micro cellulose beads to gently massage away dead skin cells. The scrub is enriched with Palm Kernel Oil and Wheat Germ Oil in a complex blend of mild surfactants and emollients that combine cleansing and moisturizing properties in one product.
Direction:
Apply an even layer of cream to moist skin. Work in with circular movement and rinse thoroughly with water. Do not use on inflammed, blotchy skin.
Ingredients:
Deionised Water




Purified water for a more stable and cleaner performance

Sodium Cocoylisethionate




A fatty acid derived from coconut oil
As a surfactant, it solubilises oils and aids in foaming as well

Disodium Sulphosuccinate




A foaming agent that is very gentle on the skin and is even suitable for more sensitive skin types

Glyceryl Stearate
& PEG-100 Stearate




This combination creates an excellent emulsifying and emulsion stabilising ingredient

Palm Kernel Oil




Contains vitamin E as antioxidant
Provides deep moisturizing properties to the skin

Wheat Germ Oil
(Triticum vulgare)




High in vitamin A, D, and E, as well as essential fatty acids, lecithin, protein, minerals, and vitamin B-1, B-2, B-3, B-6, and F
Its high linoleic acid content is good for acne-prone skin, helping to clear up complexion and for skin-toning
Contains antioxidants and anti aging properties, which helps in reducing fine lines, wrinkles and premature aging signs

Cellulose Beads




Locks moisture into the skin and enables a deeper penetration of other beneficial ingredients

Allantoin




Soothes irritated skin
Stimulates cell regeneration
Moisturizes dry skin

Cetyl Alcohol




Naturally derived from vegetable sources and act as an emulsifier or thickener

Glycerin





As humectants to maintain the skin outer barrier and prevent dryness or scaling

Magnesium Aluminium Silicate




Has the ability to retain a large amount of water



Mint Oil




Creates a cooling sensation
Nourishes dull skin and improves the texture of oily or greasy skin

Tetrasodium EDTA




A water softener and preservative

Methyldibromo Glutaronitrile




Phenoxyethanol




Anti-bacterial and stabilizing agent
The product is registered with Ministry of Health Malaysia (MAL 04010089K)
About The Brand

37 Years of Expertise, Professionalism & Dedication
A pioneer in skin care since 1977, Clara International Beauty Group strives to become a true leader, acknowledged beyond Malaysia, breaking new ground in almost every facet of the industry.
With own R&D facilities, manufacturing plants, beauty centres, beauty colleges, beauty equipment distributorship, and time-tested business format franchise, Clara International has successfully evolved to become one of the largest beauty chains in Malaysia, with over 50 beauty centres throughout Malaysia with associates in Philippines, Singapore, Indonesia, Thailand, Brunei, Mauritius, India and Myanmar.
Product Availability
Backorder Item.
Please take note that the waiting time for Backorder items is around 1-3 weeks from the date of payment, subject to stock availability. For orders outside Malaysia, there might be a shipment delay especially during peak holiday seasons. We will try our best to expedite all orders but in any cases that Backorder is cancelled, full cash/credit refund will be given. We sincerely appreciate your kind understanding and patience.
---