English Tea Shop English Breakfast (20 Pyramid Envelopes)
Product Details
Our finest, high-grade rich Organic and Fairtrade Ceylon Black Tea hasn't changed much over the years… why, you ask? Well, because it's just so delicious. Produced to time tested orthodox methods, the tea is full-bodied and great with milk and sugar (if you're not sweet enough already…). Time to put your feet up.
Ingredients
Organic and Fairtrade pure Ceylon black tea.
About English Tea Shop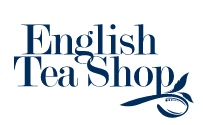 English Tea Shop love tea, and want to spread that love, which is why they have made it their life long mission to deliver the best possible cuppa to the Nation and beyond. They source only the finest, tastiest ingredients, dealing directly with farmers and producers from all over the world. They have some of the most experienced tea blenders, formulators and tasters in the industry, and to boot, their manufacturing facility is in the heart of Sri Lanka, meaning they can rely upon tried and tested tea techniques, along with a few modern processes, to deliver truly delicious, sustainable, yet economical solutions.
No nasties, no chemicals - just the indulgence of natural, organic taste bud tingling tea!
Product Availability
Temporarily out of stock.
---