Happy Puffs - Banana & Pumpkin (60gm)
Product Details
Happy Puffs - Banana & Pumpkin
Melt-in-your Mouth Finger Food
Our Happy Puffs are a melt-in-your mouth finger food for babies and toddlers. They are sweetened with 100% fruit and vegetable juice and are fortified with Choline for brain and eye health. Happy Puffs teach baby tactility and self-feeding. Perfect first snack!
Banana Happy Puffs are sweetened with 100% fruit juice and enriched with vitamins and minerals. Our puffs melt in Baby's mouth and encourage self feeding. They may just buy Mom some quiet time, too.
Gluten Free!
25 mg Choline - Per Serving for Eye & Brain Development
Sweetened with 100% Fruit Juice
Made with Organic Whole Grains
USDA Organic
Finger Food for Babies
Certified Organic by California Certified Organic Farmers (CCOF)
Ingredients:
Ingredient

Functions

Organic Brown Rice Flour

Rich in B vitamins, manganese, selenium, iron and fiber
Rich in naturally-occurring oils & antioxidants

Organic White Rice Flour

Easier to break down into glucose to provide energy quickly

Organic Apple Juice Concentrate

Polyphenols in apple fruit can help control stomach disorders
Natural sweetener and rich in Vitamin C and potassium

Organic Banana Powder
Calcium Carbonate

A source of calcium
Vital for formation of strong bones & teeth

Tricalcium Phosphate & Dicalcium Phosphate Dihydrate

A source of calcium and phosphorus
Both are vital for formation of strong bones & teeth

Choline Bitartrate

Vital in the proper functioning of the brain and the nervous system
Supports the production of certain amino acids

Vitamin & Mineral Blend
Ferric Orthophosphate (Iron)

Helps to restore iron levels in the body
Vital in the production of hemoglobin

Sodium Ascorbate
(Vitamin C)

Acts as an antioxidant
Enhances immunity & essential in formation of collagen

Niacinamide (Vitamin B3)

Improves circulation
Aids in the metabolism of carbohydrates, fats & proteins

D-Alpha-Tocopheryl Acetate (Vitamin E)

As an antioxidant, it prevents cell damage & oxidation of bad lipids
Boosts up immune system

Zinc Oxide

Regulates & enhances immune function
Helps protein synthesis & collagen formation

Vitamin A Acetate

An antioxidant and enhances immunity
Helps maintain and repair tissues

Cholecalciferol
(Vitamin D3)

Is required for the absorption & utilization of calcium & phosphorus
Vital for formation of strong bones & teeth

Calcium Pantothenate
(Vitamin B5)

Essential for the body's production of hormones
Metabolizes carbohydrates, fats, and proteins for energy

Cyanocobolamin
(Vitamin B12)

Aids in protein synthesis necessary for cardiovascular function
Helps in formation of red blood cells and the utilization of iron

Riboflavin (Vitamin B2)

Vital for red blood cell formation, antibody production & growth
Aids in metabolism of carbohydrates, fats & proteins

Thiamine Mononitrate
(Vitamin B1)

Enhances circulation & assists in blood formation
Needed in the production of hydrochloric acid for proper digestion

Pyridoxine Hydrochloride
(Vitamin B6)

Acts as a coenzyme in biochemical reactions in the blood,

central nervous system and skin
Natural Mixed Tocopherols
Why Happy Puffs?
Our puffed brown rice puffs are firm enough for your child's little hand to hold, but gentle enough for your child's developing gums. Perfect for teething and snacking. Encourages self feeding!
Always organic: Never any artificial colors and flavorings. Sweetened with 100% fruit juice. Our puffs are made with organic whole grains, fruits and vegetables.
Vitamins and Minerals: (10%) of your baby's daily value of Vitamin D based on the latest recommendations from the American Academy of Pediatrics.
Green packaging: This container is BPA free and recyclable.
We support: Organic fertilizers, no genetically modified organisms (GMOs).
Allergen Info
No wheat, no soy, no corn
Suggested Use
Use within one week of opening for optimal freshness.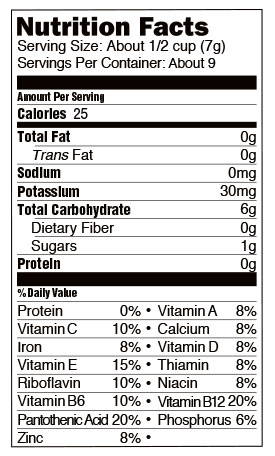 About The Brand – Happy Family
Launched on Mother's Day 2006, and founded and operated by moms, Happy Family is a leading premium organic food brand delivering optimal nutrition for the entire family. In 2011, founder and CEO Shazi Visram earned the title of Ernst & Young's Entrepreneur of the Year for New York. Happy Family has been named as one of the fastest growing organic food companies in the nation by Inc. magazine for two years running, and was named "Rockstar of the New Economy" by Fast Company in 2012.
When you feed your child Happy Family products, every bite really counts. Happy Family works with pediatricians and nutritionists to develop the recipes, starting with the very best organic fruits, vegetables, dairy, meats and grains. Today, Happy Family provides organic foods for babies, toddlers, kids, and even adults! It's delicious, convenient and made with a mother's touch for all ages, all stages. What could be happier than that?
Product Availability
Backorder Item
Please take note that the waiting time for Backorder items is around 1-3 weeks from the date of payment, subject to stock availability. For orders outside Malaysia, there might be a shipment delay especially during peak holiday seasons. We will try our best to expedite all orders but in any cases that Backorder is cancelled, full cash/credit refund will be given. We sincerely appreciate your kind understanding and patience.
Customer comments
| Author/Date | Rating | Comment |
| --- | --- | --- |
---