5% OFF
Happy Yogis – Banana Mango (28g) - Best Before 06.2021
Product Details
Organic Fruit And Yogurt Drops
Our Happy Yogis are freeze-dried organic fruit and yogurt drops that melt in Baby's mouth. They are truly a delicious and nutritious treat made with the goodness of organic yogurt and fruit. This yummy snack offers protein, and the added boost of pre and probiotics for digestive health.
Ingredient

Functions

Organic Grade A Milk

Calcium – builds healthy bones & teeth

Provides protein as a source of energy & builds/repairs muscle tissue

Organic Skim Milk

Contains lower content of fats

Calcium – builds healthy bones & teeth

Organic Sugar

Organic Banana Puree (Organic Banana, Citric Acid, Ascorbic Acid)

Natural flavoring

Rich in Vitamin C & potassium

Organic Tapioca Starch

Natural binding and thickening agent

Organic Mango Puree

Natural flavoring

Rich in Vitamin A, copper, calcium and iron

Organic Whey Protein Concentrate

Provides a complete protein profile

Low in lactose content

Pectin

Source of fiber

Increases the beneficial bacteria in digestive system

Organic Inulin

Enhances the absorption of minerals in the body

Promotes immune system function

Mixed Tocopherols

Live & Active Cultures (S. Thermophilus, L. Bulgaricus, L. Acidophilus, B. Lactis, L.Paracasei, L. Rhamnosus)

Regulates proper intestinal function and digestion - by balancing intestinal microflora
Why Happy Yogis?
Organic Goodness: All Happy Yogis are certified organic

Packaging is made without the use of BPA

Live Active Cultures for baby's digestive health

We Support: Organic and sustainable farming

Great first snack, melts in baby's mouth!
Allergen Info
Contains milk, made from RBGH-free milk, no soy, no gluten, no wheat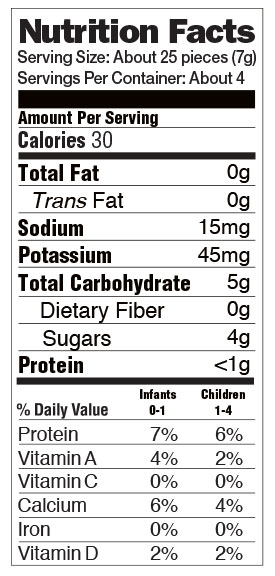 About The Brand – Happy Baby
Availability
Ready Stock.
Expiry date: 6.2021
---