Human Nature 100% Natural Healthy Lotion 200ml
Product Details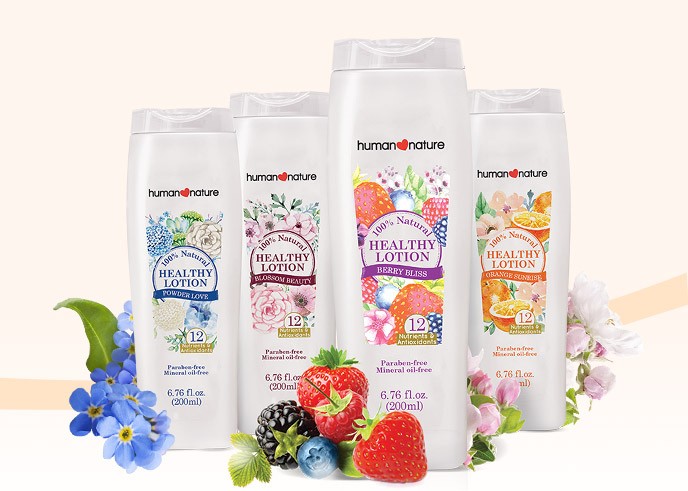 100% Natural | Lightweight and non-greasy
Did you know that up to 60% of what we put on our face and body can get absorbed by the skin? Whatever you slather on your skin must be healthy and wholesome for your body!
This light, fast-absorbing, genuinely natural lotion is infused with a powerhouse blend of coconut, aloe vera leaf juice, sunflower and avocado oils to ensure that your skin gets its daily dose of skin nutrition all day to stay soft, smooth and youthfully supple.
Feed your skin with its 12 powerful nutrients and antioxidants:
Amino Acids | Essential Fatty Acids | Phytosterols | Vitamin A | Vitamin B1 | Vitamin B2 | Vitamin B9 | Vitamin B12 | Vitamin C | Vitamin E | Vitamin K | Zinc
Available in four well-loved scents:
Refreshingly light Powder Love
Floral and feminine Blossom Beauty
Fun and fruity Berry Bliss
Energizing and juicy Orange Sunrise
Did You Know? All lotions can moisturize but not all are honestly healthy. Celebrate good, good skin loving with the truly healthy lotion! No mineral oil, silicones, dimethicones, or parabens – just daily natural skin nutrition for soft, smooth, and beautifully healthy, happy skin!
Ingredients:
aqua (water), glyceryl stearate (vegetable-derived), caprylic/capric triglyceride (coconut-derived), glycerin, stearyl alcohol (vegetable-derived), sodium lactate (sugarcane-derived), sodium gluconate (sugarcane-derived), dicaprylyl ether (vegetable-derived), Persea gratissima (avocado) oil, olus (vegetable) oil, Helianthus annuus (sunflower) seed oil, Glycine soja (soybean) oil, fragrance (all-natural), tapioca starch, xanthan gum, Aloe barbadensis (aloe vera) leaf juice, glyceryl caprylate (coconut, palm and glycerin-derived), anisic acid (anise seed-derived)
Review:
I have tried the new scent which is the Orange Sunrise, and I am amazed as to how it moisturizes my skin. In just two weeks, I noticed that my back has less breakouts and dark spots. It makes my skin soft to touch. I think I'll never switch back to other commercial lotions. – Princess (Source: Human Nature Principal)
I bought berry bliss and the fragrance reminds me so much of the sweet bubblegum from my childhood! Love how fast it dries up on your skin after applying it. No regret buying the big bottle despite being my first time using it! – Alisa (Source: Human Nature Principal)
A great body moisturizer for me...applying after bath simply complete everything.i dont have to wear parfum! i love the smell of my blossom beauty. – Zie (Source: Human Nature Principal)
This product works like wonders. It just sinks into your skin and doesn't leave your skin feeling greasy. And also I love the scent of it because it's not too overpowering. My mom loves it too <3 Will definitely repurchase it again. – Virginia (Source: Human Nature Principal)
I love this body lotion! The texture is perfect for mornings when you need the body lotion to sink in quickly! It's light, but leaves the skin feeling moisturised and soft! The best part is, I love that it's all-natural, so I don't worry about all sorts of chemicals going into my skin. :P For night, I use the thicker body cream (Mango) instead :) Really happy to find affordable, natural goodies for the body on Down to Earth! :) – Foong Jin (Source: Human Nature Principal)
Bought a bottle of this lotion in berry bliss. i love fruity scents so was surprised that i wasn't too keen on this... reminds me of some berry-flavoured candy and didn't quite like the idea of smelling like sweeties. but that's just a personal preference thing and fortunately the scent is not overpowering and dissipates fairly quickly. what i REALLY like about this is how soft and smooth my skin has become after just over a week of daily usage, after i shower in the morning, and before i sleep at night. the skin on my legs and feet have been horrendously parched late due to all my outdoor activities, but i really dislike richer lotions that leave me feeling greasy, especially in day times. this one was perfect for use even in hot weather and absorbs quickly. will definitely repurchase, but in vanilla. – Anaesthesia (Source: Human Nature Principal)
Bought both the Vanilla and the Berry Bliss lotion. I must say I love love love the Vanilla lotion to pieces!! I love the smell of the lotion on my skin, like a vanilla cupcake!! And the absorption rate of the lotion by my skin is like wow... between 6-8 seconds? Other commercial lotions leave a slick layer of oil on my skin but not this one. I have Keratosis Pilaris (Chicken Skin) on my upper arms and I'm looking forward to the lotion helping to rid me of this problem. – Tiffany (Source: Human Nature Principal)
I started using Berry Bliss about a month ago and I usually use it in the morning, after my shower. I am a berry nut so the very berry smells are just right for me (my husband says I smell like a strawberry in the morning!). After daily applications of almost a month, my skin does feel smoother. I am now on my 2nd bottle of the 50ml but I think when it finishes I will just go get the bigger size though the 50ml is a great size for handbags and travelling. It helps that I know all that stuff that goes on my skin is not going to kill me now or in the future. Glad I tried this – Krista Goon (Source: Human Nature Principal)
The product is registered with Ministry of Health Malaysia (NOT140604744K) -Blossom
The product is registered with Ministry of Health Malaysia (NOT140604745K) -Berry
The product is registered with Ministry of Health Malaysia (NOT161105480K) -Powder
The product is registered with Ministry of Health Malaysia (NOT170405327K) -Orange
About The Brand – Human Nature
HUMAN NATURE, the Philippines' largest brand of genuinely natural and organic personal care products. Its products are 100% made in the Philippines and 100% free from harmful chemicals that were established to help provide livelihood for Gawad Kalinga residents and support Filipino farmers by sourcing natural raw material locally. A social enterprise, Human Nature is driven by the core philosophies of being Pro-Philippines, Pro-Poor, Pro-Environment.
Human Nature is about loving the environment and loving our families as we provide personal care products that feel as good on your skin as they do in your heart. These premium products do not contain potentially harmful chemicals such as SLS/SLES, parabens, pthalates, or mineral oil. We hope that your everyday choices will have a positive impact on the poor, our country and our planet.
With Human Nature, you can be sure your skin is touched by Only the Good!
Product Availability
Backorder Item
Please take note that the waiting time for Backorder items is around 1-3 weeks from the date of payment, subject to stock availability. For orders outside Malaysia, there might be a shipment delay especially during peak holiday seasons. We will try our best to expedite all orders but in any cases that Backorder is cancelled, full cash/credit refund will be given. We sincerely appreciate your kind understanding and patience.
Customer comments
| Author/Date | Rating | Comment |
| --- | --- | --- |
---