Human Nature 100% Natural Sunflower Beauty Oil
Available to ship : 8 - 15 working days subject to stock availability.
All prices inclusive of 6% GST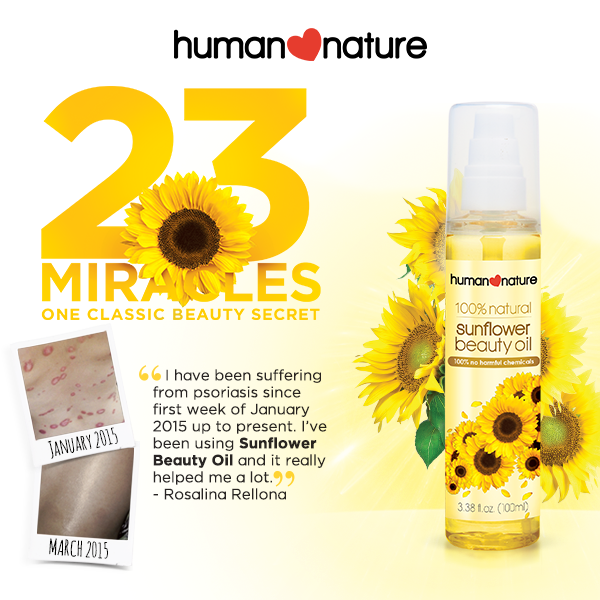 100% Natural | Hypoallergenic | Bestseller
Experience 23 miracles of the sunflower gold.
A breakthrough bestseller and cult classic since its unveiling, Sunflower Beauty Oil's premium formulation is lush with moisturizing and nourishing vitamins A, D & E, earning its place as a well-known and well-loved top-to-toe beauty solution.
How does Sunflower Beauty Oil show its miracle magic? Let us count the ways …
Helps lighten dark undereye circles
Helps lighten dark spots & pimple marks
Undereye moisturizer
Helps prevent & lighten the appearance of stretch marks
Helps soften and lighten underarms
Softens feet soles, knees & elbows
Removes stubborn makeup
Overall body moisturizer
Helps lighten fine lines around the eyes
Helps soften cuticles and dry skin
Makes skin glow and helps keep it youthful
Helps relax tired, puffy eyes
Helps relieve itch & redness caused by insect bite
Nourishes & conditions eyelashes
Helps lighten dark lips
Adds shine to dull hair
Helps ease dry & itchy scalp
Helps improve skin condition after sunburn
Smoothens dry, rough skin from shaving
Helps calm skin & ease rashes
Helps relieve symptoms of skin infections
Helps hydrate dry patches on face
Helps lighten lesions and scars
Now you can carry with you your entire beauty routine in one beauty travel kit-friendly bottle.
Ingredients:
Just the purest, premium-grade Helianthus annuus (sunflower) seed oil

The product is registered with Ministry of Health Malaysia (NOT140604752K)
About The Brand – Human Nature
HUMAN NATURE, the Philippines' largest brand of genuinely natural and organic personal care products. Its products are 100% made in the Philippines and 100% free from harmful chemicals that were established to help provide livelihood for Gawad Kalinga residents and support Filipino farmers by sourcing natural raw material locally. A social enterprise, Human Nature is driven by the core philosophies of being Pro-Philippines, Pro-Poor, Pro-Environment.
Human Nature is about loving the environment and loving our families as we provide personal care products that feel as good on your skin as they do in your heart. These premium products do not contain potentially harmful chemicals such as SLS/SLES, parabens, pthalates, or mineral oil. We hope that your everyday choices will have a positive impact on the poor, our country and our planet.
With Human Nature, you can be sure your skin is touched by Only the Good!
Customer comments
| Author/Date | Rating | Comment |
| --- | --- | --- |
---