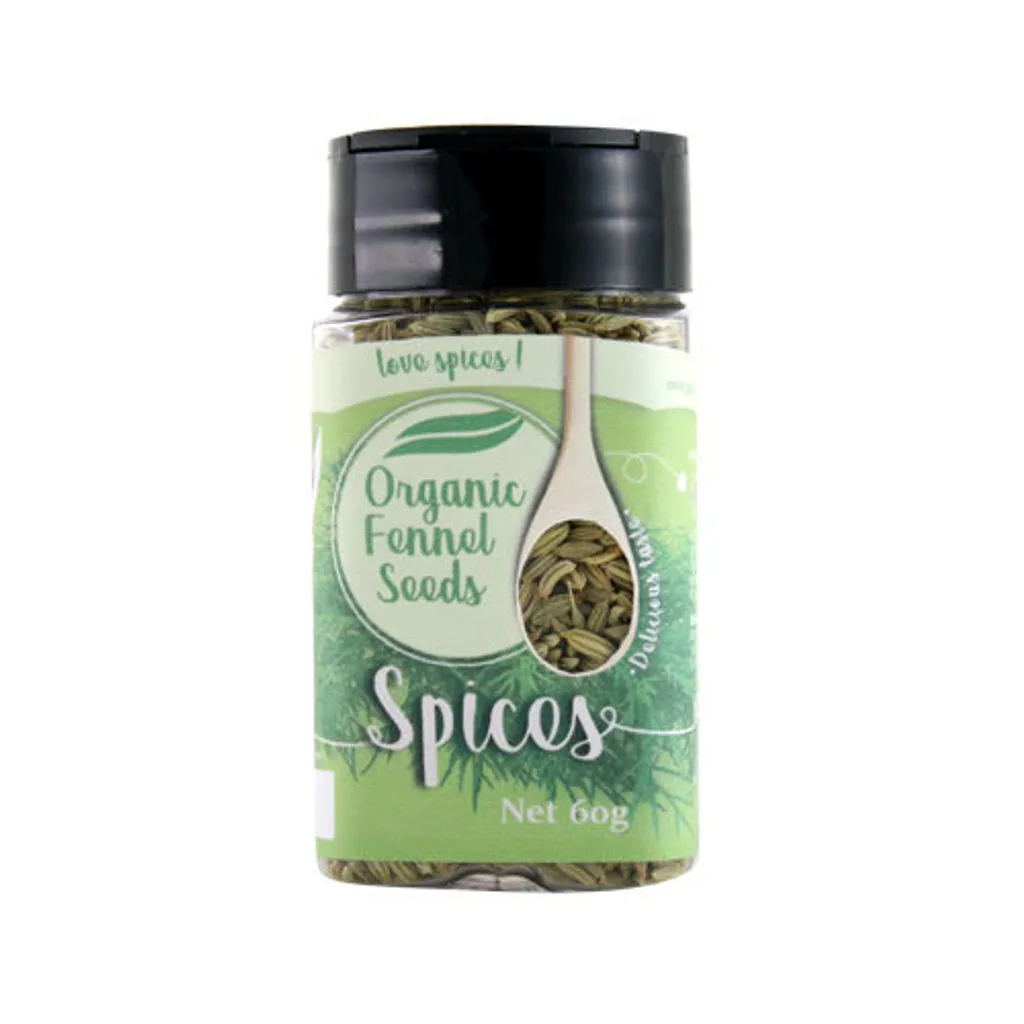 Love Earth Organic Fennel Seed (60g)
Product Details
A dried seed that comes from the fennel herb, fennel seeds look like cumin seeds, only greener, and have an aniseed flavor and a warm, sweet aroma. They're also used in spice mixes such as Chinese five-spice and the Indian panch poran.
Health Benefits of Fennel Seed
Contain numerous flavonoid antioxidants such as kaempferol and quercetin.
Rich source of dietary fiber.
Compose of health benefiting volatile essential oil compounds such as anethole, limonene, anisic aldehyde, pinene, myrcene, fenchone, chavicol, and cineole. These active principles in the fennel are known to have antioxidant, digestive, carminative, and anti-flatulent properties.
Good source of copper, iron, potassium, manganese, selenium, vitamin A, C, E and B-complex vitamins.
Tips of Using Fennel Seed
You'll get more flavour out of fennel seeds by grinding or dry frying them.
About The Brand – Love Earth
Love Earth is a brand established by Wide Tropism, to enable everyone to consume hygiene, with quality and affordable organic products – which could help in maintaining one's health and also help our one and only mother earth.
Love Earth brings everyone only ORGANIC & NATURAL products. Organic is commonly perceived as "expensive" products and is categorized as "high-end" products. BUT!! No more expensive in Love Earth. They provide everyone with the lowest cost they could give and promise to give the best quality they could.
Product Availability
Backorder Item.
Please take note that the waiting time for Backorder items is around 1-3 weeks from the date of payment, subject to stock availability. For orders outside Malaysia, there might be a shipment delay especially during peak holiday seasons. We will try our best to expedite all orders but in any cases that Backorder is cancelled, full cash/credit refund will be given. We sincerely appreciate your kind understanding and patience.
---