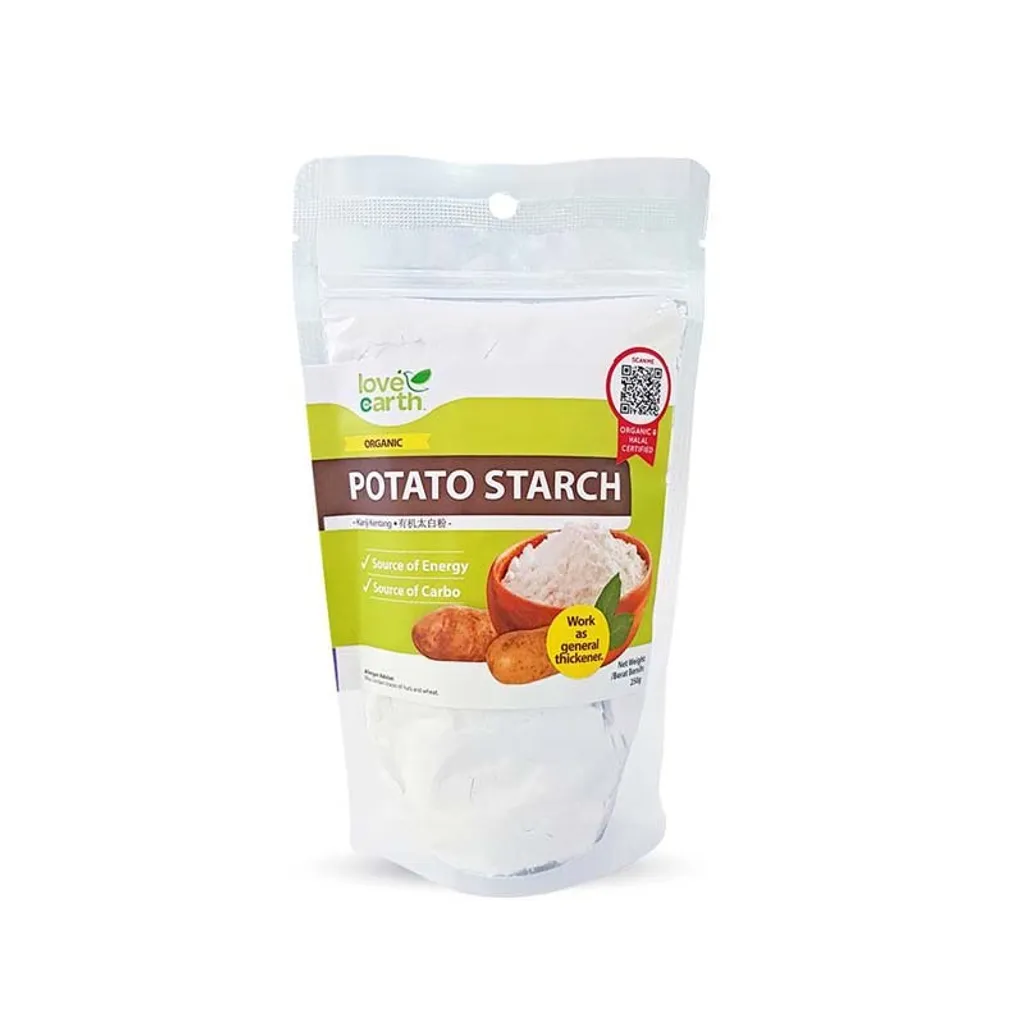 Love Earth Organic Potato Starch (250g)
Product Details
It's a Gluten-free flour blend, lends a light, fluffy texture to baked goods.
Potato starch is difference from potato flour. Potato starch made from the dried starch component of peeled potatoes. It has no potato flavor so works well in most recipes. The cells of the root tubers of the potato plant contain starch granules (leucoplasts). Potato starch is a very fine white powder starch, with a texture much like cornstarch. This is good news for individuals with a corn allergy or those on a grain-free diet.
Health Benefits of Organic Potato Starch
As part of the starch component of a gluten-free flour blend, potato starch lends a light, fluffy texture to baked goods.
Provide protein which needed by body to build and repair cells.
Potato Starch is a very good source of vitamin C & B6,copper, potassium, manganese and dietary fibre.
Potato starch used by the food processing industry as a general thickener, binder, anti-caking or gelling agent.
How To Enjoy:
Can be used to make cakes, bread, cookies, noodles and much more.
About The Brand – Love Earth
Love Earth is a brand established by Wide Tropism, to enable everyone to consume hygiene, with quality and affordable organic products – which could help in maintaining one's health and also help our one and only mother earth.
Love Earth brings everyone only ORGANIC & NATURAL products. Organic is commonly perceived as "expensive" products and is categorized as "high-end" products. BUT!! No more expensive in Love Earth. They provide everyone with the lowest cost they could give and promise to give the best quality they could.
Product Availability
This is a BACKORDER item.
Please take note that the waiting time for Backorder items is around 1-3 weeks from the date of payment, subject to stock availability. For orders outside Malaysia, there might be a shipment delay especially during peak holiday seasons. We will try our best to expedite all orders but in any cases that Backorder is cancelled, full cash/credit refund will be given. We sincerely appreciate your kind understanding and patience.
---