MEGA We Care Cholezz Krill Oil 500mg (50 softgel capsules)
Product Details
Krill (Euphausia superba) are small red-colored crustaceans, similar to shrimp. Krill oil is composed of 40% phospholipid (primarily phosphatidylcholine), 30% omega-3 fatty acids (Eicosapentaenoilc acid (EPA) and Docosahexaenoic acid (DHA), astaxanthin, omega-6 fatty acids, omega-9 fatty acids and others.
Omega-3, Omega-6 are essential PUFAs (these fatty acids cannot synthesized by body itself), which are important for cardiovascular health and anti-inflammatory system.
Omega-9 is a conditionally essential FAs. Omega-9 is mainly used when there is insufficiency of either omega-3, omega-6 or both.
Oleic acid; MUFAs can lower cholesterol level.
Oleic acid with EPA and DHA showed benefit in improving cardiovascular risk profile.
Composition
Each capsule contains:
Neptune Krill Oil (NKO™) :500 mg providing

Total Phospholipids :210 mg
Total Omega-3 Fatty Acids (bounded with phospholipids) :132.5 mg
Eicosapentaenoic acid (EPA) (bounded with phospholipids) :71 mg
Docosahexaenoic acid (DHA) (bounded with phospholipids) : 42.5 mg
Total Omega-6 Fatty Acids : 7.5 mg
Total Omega-9 Fatty Acids : 32.5 mg
Esterified Astaxanthin : 625 mcg
Dose
Therapeutic doses range from 1-3 g krill oil per day, with maintenance dosing of 500 mg daily
Indication
Maintain healthy blood lipid levels
---
ABOUT THE BRAND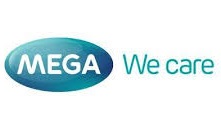 Established in 1982, Mega Lifesciences public company limited is actively involved in helping millions of people have access to safe, effective, world class quality nutritional & herbal supplements, OTC and ethical products.
---
Product Availability
This is a BACKORDER item.
Please take note that the waiting time for Backorder items is around 1-3 weeks from the date of payment, subject to stock availability. For orders outside Malaysia, there might be a shipment delay especially during peak holiday seasons. We will try our best to expedite all orders but in any cases that Backorder is cancelled, full cash/credit refund will be given. We sincerely appreciate your kind understanding and patience.
---