Nature's Plus SPIRU-TEIN Simply Natural Vanilla
Product Details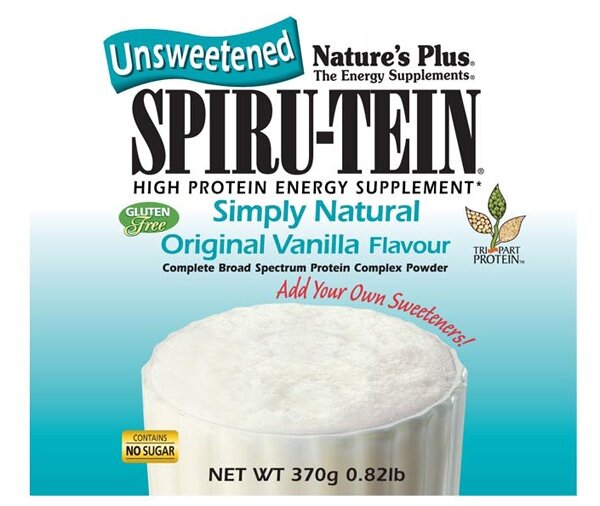 With only 5g of carbs and 80 calories per serving, Simply Natural is SPIRU-TEIN's Unsweetened Protein Shake series suitable for both low-carb and low-calorie diets.

High in energy, rich in flavor and power packed nutrition – that's SPIRU-TEIN! This superior quality plant-based protein is an excellent meal replacement enhanced with benefits of spirulina, vitamins, minerals, diet aids, enzymes and fiber.
Fully imported and manufactured in U.S. by Nature's Plus, SPIRU-TEIN is time honored and proven quality with an impressive history of loyal customer satisfaction since 1986.
Complete broad spectrum protein complex
SPIRU-TEIN formulations feature a unique blend of ingredients, including:
Superior patent-pending TRI-PART PROTEIN BLEND of rice, pea and soy. Soy protein from both fermented and non-fermented soy.
100% of more daily value of all vitamins suggested by FDA
Broad profile of essential minerals
Energy nutrients from high quality tri-part protein and bee pollen
Diet-aids: Lecithin, Spirulina, Choline and Inositol
Enzymes: Bromelain and papaya
Cleansing: chlorophyll
Fiber: Bran, Cellulose and Apple Pectin
Who needs SPIRU-TEIN Simply Natural?
In need of a sugar free low carb diet

With its highly nutritious and yummy creamy treat, SPIRU-TEIN Simply Natural is your best preferred companion during times where low carb and sugar free diet is required due to lifestyle or medical condition requirement.

Low on energy

It is great as an energy booster with its high nutrition. A far better replacement of coffee, cola, energy drinks and other sugary boosters, it replenishes energy in a healthy way and balances insulin spike. Used before and after exercises to help build and tone lean muscle mass.

Lack of nutrition

Ensures nutritional needs are met and absorbed with SPIRU-TEIN. In today's world where food are tainted and where we run on empty, it is crucial to provide our bodies with quality nutrition. Fighting starvation and deprivation is like fighting against the tides, our body naturally craves nutrition. SPIRU-TEIN satiates and nourishes, making the path to fitness a smooth journey.

Use SPIRU-TEIN to ensure nutritional needs are met, especially for those who often skip meals, on a dietary regime or have irregular meals.

Busy schedule and always on-the-go

SPIRU-TEIN is convenient and fast to fit into your busy lifestyle. Use it as a meal replacement, an added supplement or for an energy boost.

Suitable for vegan

SPIRU-TEIN is also suitable for vegetarians, those with lactose and gluten intolerance. It is a source of high quality protein and dairy replacement.

Always on diet?


Its low calorie content and high nutrition makes it a great meal replacement for weight loss and maintenance. Replaces it with a meal or two depending on weight loss goals for full nutrition and satiety from high quality protein.

Studies show that high protein consumption increases weight lost, increases fat loss, increases metabolism and preserves lean muscle mass. In addition, high quality nutrition increases and sustains successful weight loss. (References: American Society for Clinical Nutrition, 2008, 2015; Harvard School of Public Health, 2011; Is your protein shake safe?GMOs and side effects)
Why do you need SPIRU-TEIN?
Are you at risk? Find out more about the nutrition aspect for your consideration.
How to consume SPIRU-TEIN Simply Natural?
Add one rounded scoop (scoop included in can) of Simply Natural Original Vanilla SPIRU-TEIN powder and fruit, honey, or other nutritious food to 8 fl. oz of milk, juice or water, and stir, shake, or blend for a delicious, high energy shake. Your shake will take on the lively, natural flavor and sweetness of your own combination of ingredients.
*Not to be used as the sole source of dietary calories. SPIRU-TEIN is not suitable for patients diagnosed with hypothyroidism. Always check with your doctor or medical practitioner for medical related advices.
Ingredients:
Proprietary non-GMO protein blend (rice protein, pea protein and soy [isolated soy protein and fermented soy]), maltodextrin, di-calcium phosphate, natural vanilla flavor, non-GMO xanthum gum, potassium citrate, magnesium oxide, guar gum, psyllium, microcrystalline cellulose, spirulina, Vitamin C, vitamin E (d-alpha tocopheryl acetate), choline bitartrate, inositol, apple pectin, niacinamide, vitamin A palmitate, zinc oxide, manganese sulfate, ferrous fumarate, calcium pantothenate, lecithin, lemon bioflavonoids, papaya, bromelain, chlorophyll, pyridoxine HCI, riboflavin, thiamine HCI, vitamin B12 (methylcobalamin), vitamin D3 (cholecalciferol from lichen), folate (as calcium-L-5-methyltetrahydofolate), biotin, potassium iodide, chromium chloride, sodium selenite, sodium molybdate…. and LOVE Y
Nutrition Facts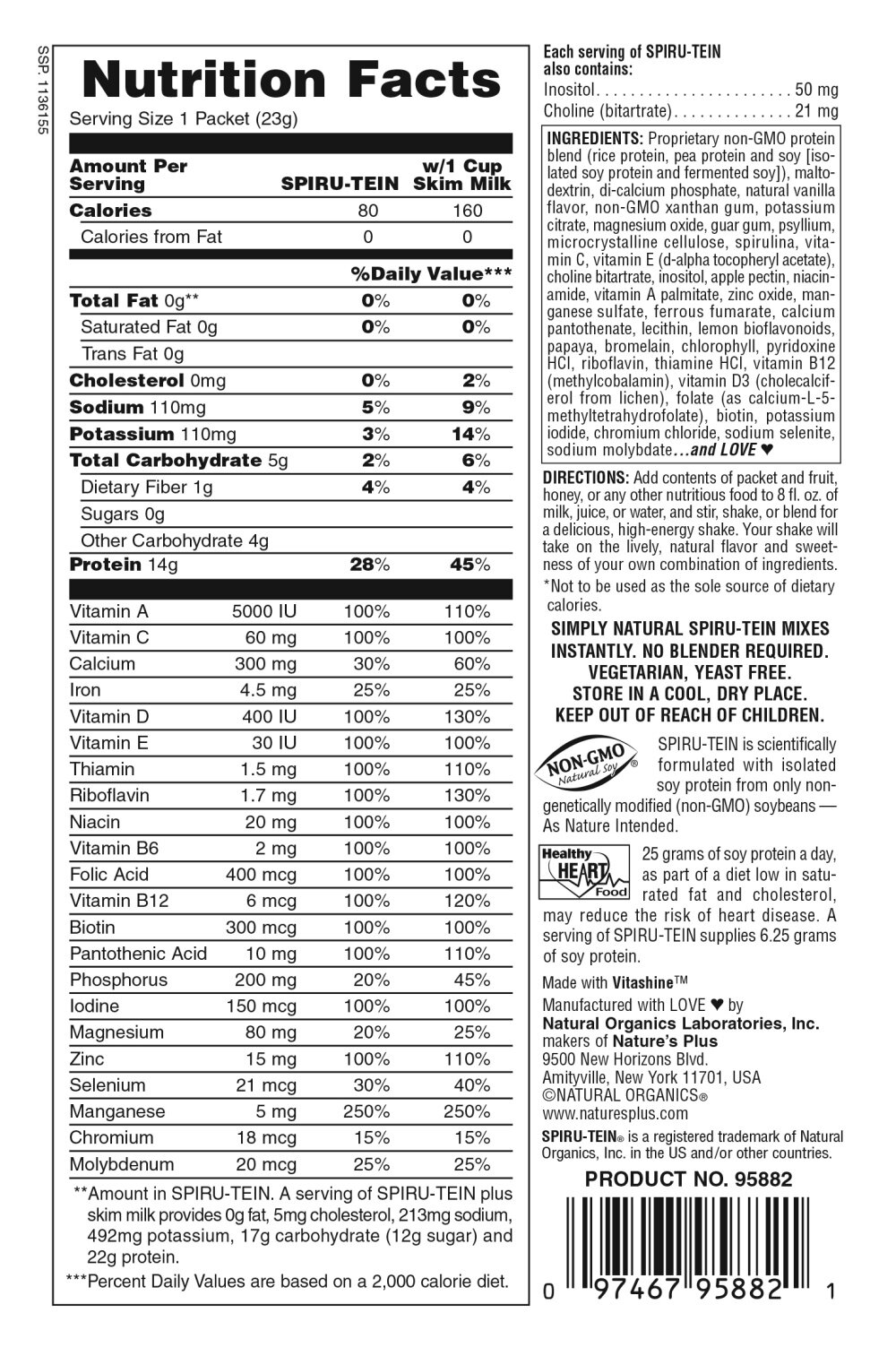 Certification
| | |
| --- | --- |
| | Kosher certified |
| | Heart healthy food with 6.25 gram of soy protein per serving |
| | Non-GMO vegetarian protein |
| | Gluten free nutrition that's delicious! |
| | Awarded SHAPE Favourites both in 2015 and 2016 as the ultimate meal replacement drink |
About the manufacture – Nature's Plus
Nature's Plus has an unmatched 45-year history as a trusted supplier of natural vitamins and nutritional supplements.
For over 40 years, Nature's Plus® has worked hard to become the "gold standard" among natural vitamin and nutritional supplement suppliers. Their commitment to excellence has earned the loyalty of thousands of natural whole food products retailers and millions of their customers across the U.S.A. and the world.
Product Availability
Ready Stock
Expiry date : 6.2020
Promotion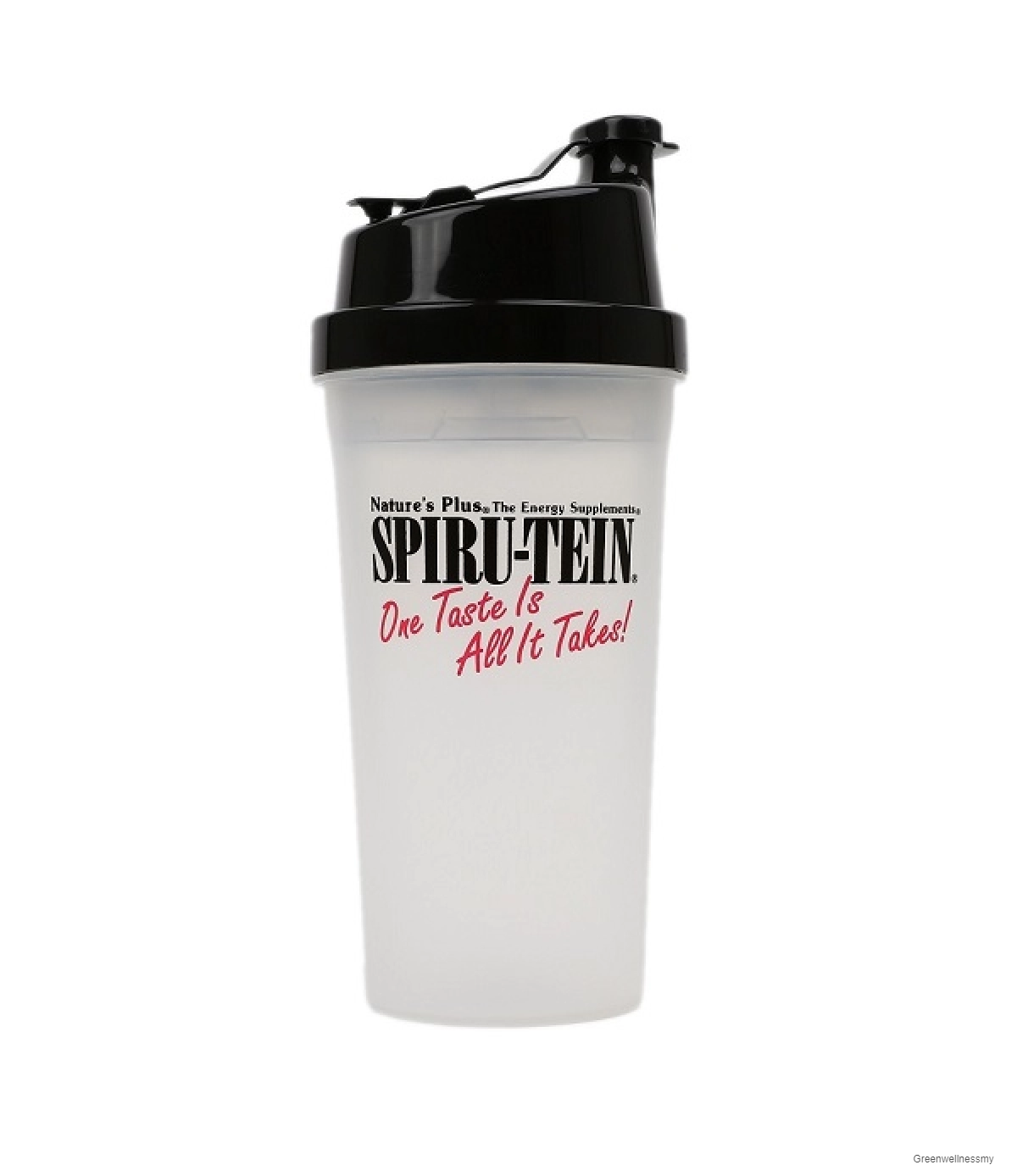 Buy 1 box(8 packs) Free 1 Shaker
---