Jayeonone Organic Elderberry Syrup (325 ml)
Product Details
Only RM3 per serving or RM6 per day of nutritious Organic Eldeberry concentrate to help your child consume organic veggies and fruits that boost their immune system and fight against cold & flu!
Elderberry is a well-known plant that supports treatment of influenza and colds, exhibiting antiviral and antibacterial activity. Elderberry extract also stimulates the production of pro-inflammatory cytokines, thus impacting and strengtheningour immune system.*
Ingredients:
European Organic Elderberry (15%) - about 633 elderberries (475g) in a bottle (325ml), organic luffa bellflower extract (20%) - containing 4 organic Korean ingredients - organic luffa, organic bellflower, organic spring onion and organic radish, organic white grape juice concentrate (30%), organic pear juice concentrate (35%).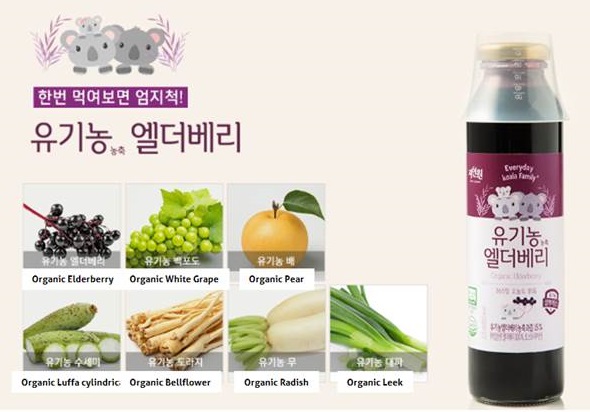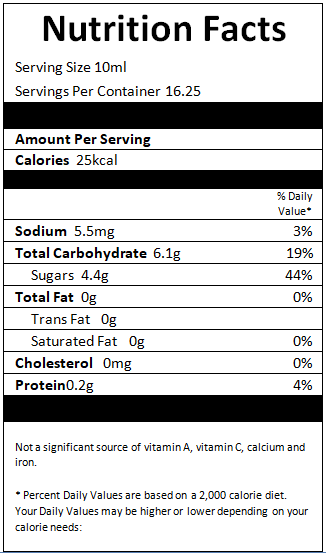 We recommend Jayeonone Organic Elderberry Syrup for 12 months old & above. Each serving size is 10ml.
How to consume:
Drink as is - it is in liquid form which can be easily consumed. Take 2-3 times daily (10ml/ time)
Drink as juice - dilute 20ml of syrup with water (1:2-3)
Drink as milk - dilute with milk of yogurt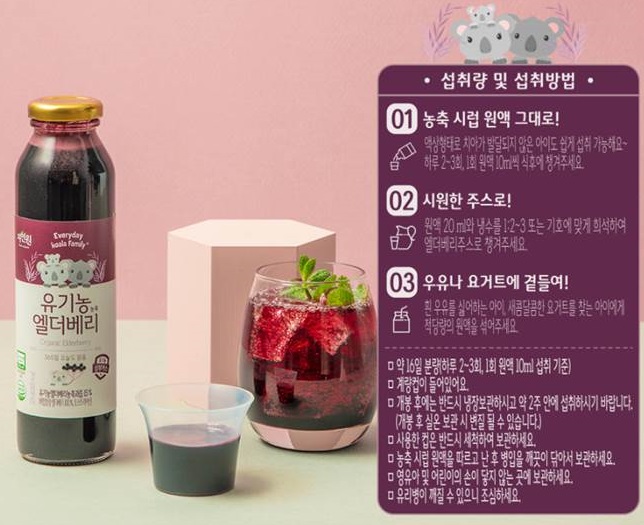 About the brand - Wellfarm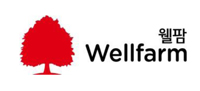 Wellfarm is a professional Korean Manufacturer health drinks. They are certified by the Korean Food and Drug Administration (KFDA), as well as by the GMP and HACCP systems. Equipped with facilities that produce various types of products according to consumers' changing tastes, they make many different Korean beverages, such as health drinks, fresh juices and concentrated fruit juices. Their primary business is both ODM and OEM manufacturing and they are pioneers in making delicious, healthy and natural drinks for the premium fresh juice market.
*Reference: Advance research on the antioxidant and health benefit elderberry (Sambucusnigra) in food - review by Andrzej Sidor, and Anna Gramza-Michalowska, Faculty of Food Science and Nutrition, University of Life Science in Poznan, Poland
Product Availability
Ready Stock.
Grab the 50% special offer now before its gone. Limited to first 10 bottles only!
Expiry date: 10.2020
Customer comments
| Author/Date | Rating | Comment |
| --- | --- | --- |
---