Renewallife DDODDOMAM Rice Puff - Strawberry Yogurt
Product Details
A crunchy, yummy & healthy chemical free heart-shaped rice puff that melts in your mouth!
Suitable for 12 months+
HACCP and multi-ISO certified
Uses only chemical free grains grown without using chemical pesticides.
Non oil fried – made only with heat and pressure, thus no oil and low in calories.
Additives free (No artificial flavoring, coloring, artificial sweetener and preservatives)
Gluten Free and non-GMO ingredients
Expert and know-how design with best gripping size, yet crunchy and melts in your mouth easily.
Suitable for whole family from 1 to 100 years old.
Perfect size to bring along as shopping, dining or traveling snacks.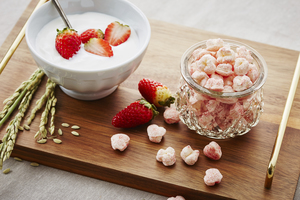 Ingredients:
Chemical free rice (Korea), Whitemom [organic sugar, vegetable oil (palm oil, sunflower oil: Singapore), cocoa butter (Singapore), mixed milk powder (skim milk powder, whey: Netherland), lecithin (Soybean: emulsifier)], Strawberry powder (Korea), Yogurt powder.
Nutritional Information
• Serving Size : 1 pack (20g)
• Amount per Serving : Calories : 85kcal, Carbohydrate : 17g(5%), Sugars : 2g(2%), Protein : 1g(2%), Fat : 1g(2%), Saturated fat : 0g(0%), Trans fat : 0g(0%), Cholesterol : 0mg(0%), Sodium : 0mg(0%)
• The percentage of daily nutritional fact criteria is 2,000kcal per day may vary depending on the individual's required calories.
Storage: Avoid direct sunlight and high temperature and humidity, keep in cool dry place. Even within expiry date, once opened, please consume as soon as possible.
This snack is manufactured in the same facilities which produce products that may contain milk, soybean, wheat, peanuts, and walnuts.
Find us at :

About The Brand
Renewallife is located in Yangpyeong, South Korea which is known as an Eco City – a rich farming land that produces safe and eco-friendly agricultural products. Made with the finest chemical-free and pesticide-free fresh produces from Eco City, Renewallife creates tasty combinations of wholesome ingredients that are indeed like no others. Renewallife puts all its efforts into improving people's health through nature-based management – including you and your loved ones.
Product Availability
Ready Stock
Expiry date: 5.2021
---