Thomson KolGard - 30 caps (Buy 1 Free 1)
Are you at risk?
Are you over 20 years of age?

Do you consume too much saturated fats, trans fats and high cholesterol food?

Do you suffer from hypertension?

Are you under heavy stress?

Do you drink alcohol heavily?

Are you overweight?

Do you smoke heavily?

Do you exercise?

Are you a diabetic?
Our proposed solution: Thomson KolGard
Why Thomson KolGard?
Each capsule contains a unique combination of 200mg of Red Yeast Rice and 100mg Milk Thistle

The Red Yeast Rice used comes from the species called Monascus Pilosus from Japan instead of the commonly used Monascus Purpureus which normally originates from China

Fermented Red Yeast Rice in KolGard contains 1% of the lipid-regulating Monacolin K

Grown in clean sanitation environment and undergoes a solid-state fermentation process

Contains undetectable amounts of citrinin, a fungal toxin that can damage the kidneys.

Milk Thistle from Europe contains 80mg Silymarin, of which 30mg is the active constituents Silybin A & B

Free of pesticides, fungicides, yeast, sugar, colouring and preservatives

Manufactured under strict Good Manufacturing Practice (GMP) with an in-house quality control laboratory
If you are curious!
Why is Milk Thistle used in this product formulation as well?
While food we consume produces 20% of our body's cholesterol, the bulk 80% of cholesterol is produced by our liver. Thus a healthy liver allows dietary cholesterol to be channeled into the liver for metabolism or excretion through the bile. People who have poor liver function may have difficulty in controlling their cholesterol levels. Milk Thistle has been traditionally used as a liver tonic to regulate and improve liver function.
What are HDL and LDL?
Lipoproteins carry cholesterol around the blood in our body. There are 2 main types of lipoproteins -:
• High Density Lipoproteins (HDL) (commonly known as "good cholesterol") clears up cholesterol from the blood and to the liver where it is cleared from the body.
• Low Density Lipoproteins (LDL) (commonly known as "bad cholesterol") - when LDL levels are too high, cholesterol will be deposited in the arteries (blood vessels that carry blood from the heart to the rest of the body). This will cause the arteries to narrow or be blocked, which could cause heart attack and stroke.
What is Red Yeast Rice?
Red yeast rice naturally contains several ingredients that may help control cholesterol levels. These include a number of monacolins, most importantly monacolin K. It also contains sterols, isoflavones, and monounsaturated fatty acids, or " healthy fats."
It has been used in food preparation as early as 300 BC.

Commonly used by the Chinese and Japanese.

Often used as a red coloring in food.

Contains Monacolin K to help regulate lipid levels
Lifestyle changes to help lower blood cholesterol levels:
Avoid foods high in cholesterol (eg. Butter, shellfish, eggyolk, processed meats, fast food)

Consume more foods rich in soluble or insoluble fibres (eg. Fruits and vegetables).

Consume more fish (eg. Salmon, tuna, mackerel, etc)

Exercise (30 minutes of moderate intensity, 3 times a week)

Stop smoking.
Recommendation
Dosage: 2 to 4 capsules daily in divided doses. Preferably one of the doses at night. (Max 5 capsules daily)
Precautions
Red Yeast Rice is not recommended for pregnant women, nursing mothers and women of childbearing age who are likely to conceive and those with past history of liver disease.
Monascus pilosus Red Yeast Rice is generally safe and well tolerated. Mild headache, abdominal discomfort and flatulence are possible side-effects. People taking Red Yeast Rice who develop muscle pain or tenderness should discontinue the product immediately and check with their doctor.
You are advised to consult your physician if you are on other cholesterol-lowering drugs.
ABOUT THE BRAND

Established since 1987, Herbal Revival Sdn Bhd has emerged as one of the leading herbal and nutritional supplement manufacturers in Malaysia, with the flagship Thomson brand of products which are synonymous with quality and innovation.
Thomson health supplements are manufactured in compliance with Good Manufacturing Practice (GMP) approved by the Ministry of Health in Malaysia.
Strategic worldwide collaboration with reputable and established suppliers who guarantee the quality of their proprietary raw materials has distinguished Thomson from the rest.
While pharmaceutical drugs are subjected to stringent efficacy and safety controls which are time consuming, expensive and requires total commitment, the same criterias do not necessarily apply to health supplements in most countries. Herbal Revival's staunch commitment to quality and safety has led to the creation of a team of competent and qualified Pharmacist, Chemist, Biochemist, and Microbiologist, to ensure that every batch of Thomson health supplements undergoes an endless battery of analytical tests in their in-house quality control laboratory to meet the ultimate needs of our customers.
Herbal Revival was also the finalist for 2012 Industry Excellence Award organized by Malaysia Ministry of Health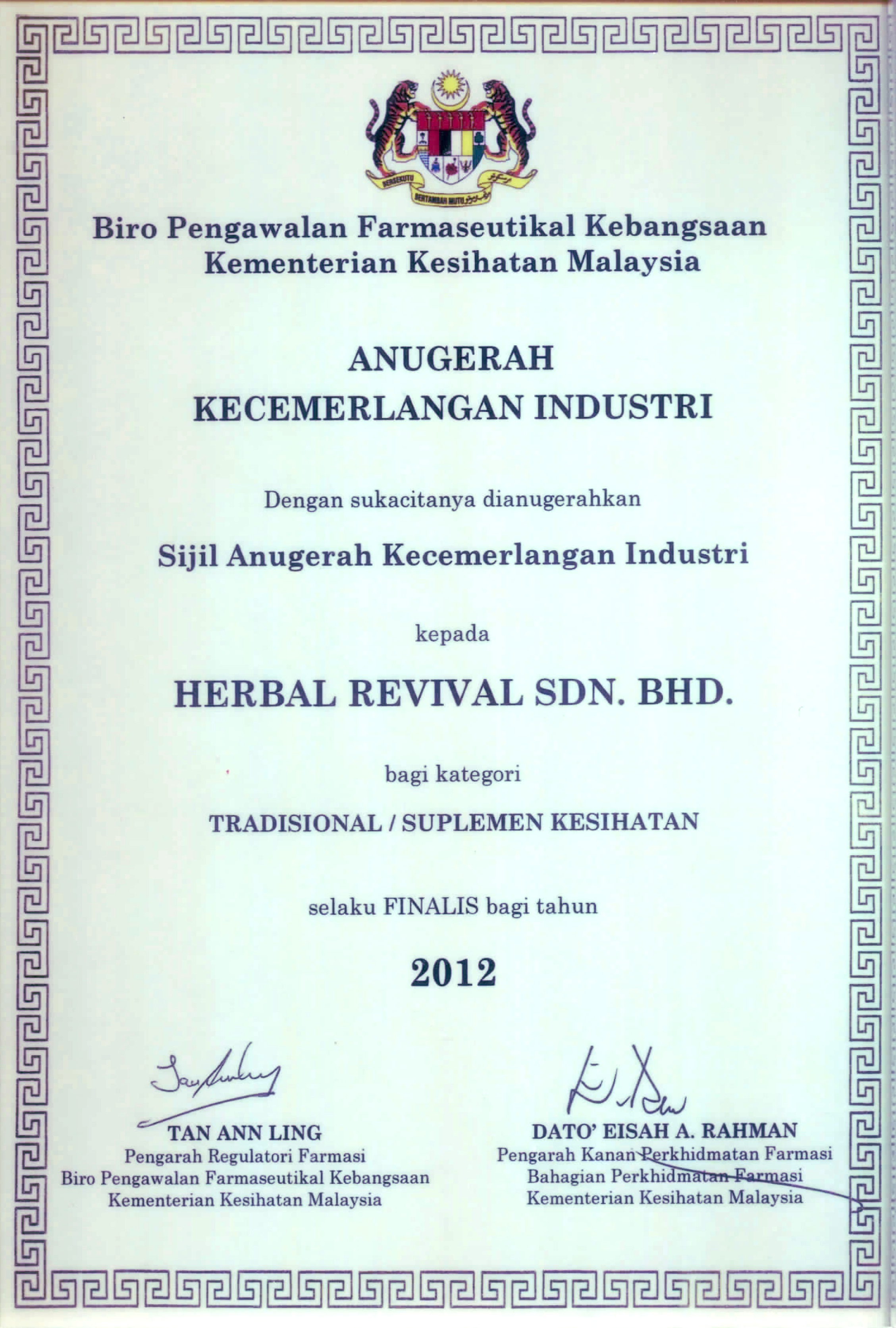 Company Youtube: https://www.youtube.com/watch?v=lQvyNxD2exw&feature=youtu.be
Customer comments
| Author/Date | Rating | Comment |
| --- | --- | --- |
---