Verdeluxe by Bacoff™ Organic Conditioner Lavender & Ylang Ylang 400ml
Product Details
Complete your hair wash with this gentle and sulfate-free conditioner! It contains an organic blend of lightweight moisturizers formulated for a softer, shinier and fuller hair. Suitable for all hair types.
Lightweight formulation perfectly balanced to work wonders for everyone!
Deeply nourishes and hydrates your hair
Stimulates hair follicles and promotes thicker and healthier hair
Lavender oil prevents hair loss and enhances hair regrowth
Lavender and Ylang Ylang treats unhealthy hair, dandruff and dry scalp
Ingredients :
Certified Organic Botanical Blend of Lavender, Burdock, Rosehip, Chamomile, Horsetail (herb), Marigold, Organic Safflower Oil, Biodynamic Avocado Oil, Biodynamic Macadamia Oil, Grapefruit Seed Extract, Australian Bush Extracts of Kakadu Plum, Cetyle Stearyl Alcohol, Wheatgerm Oil, Aloe Vera, Olive Leaf Extract, Potassium Sorbate, Vanilla Extract, Almond Extract, Glycerin, Purified Water, Guar Gum, Citrus Seed Extract, Soy Lecithin, Cetyle Alcohol, Organic Locust Bean Gum, Vitamin E, Lavender Essential Oil, Ylang Ylang Essential Oil
Directions for Use :
After shampooing, apply a small amount of conditioner in plam and gently rub into hair. Leave in for extra conditioning and then gently rinse away.
Contains NO :
Paraben, SLS, Synthetic Fragrances, Harsh Detergents, Mineral Phosphate, Animal Ingredients, GMO Ingredients, Sulphates

Why BacOff?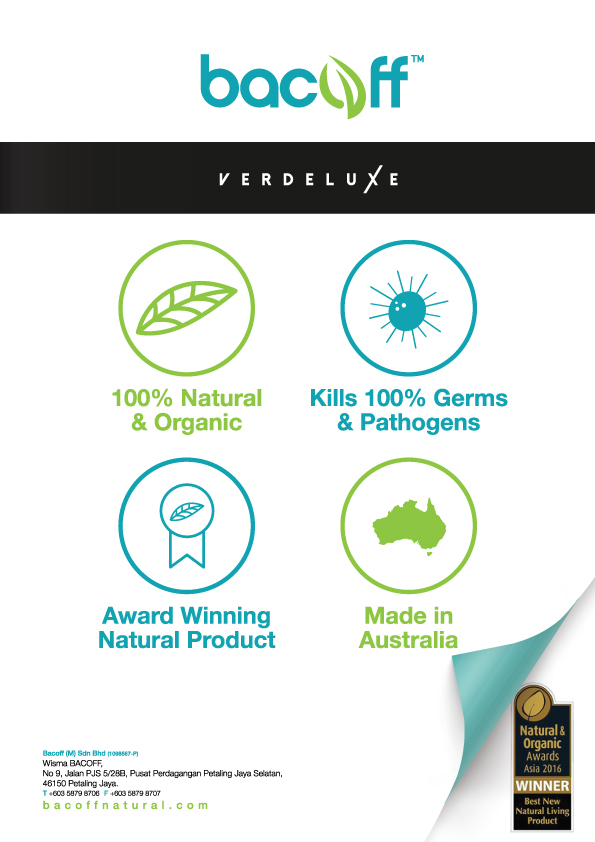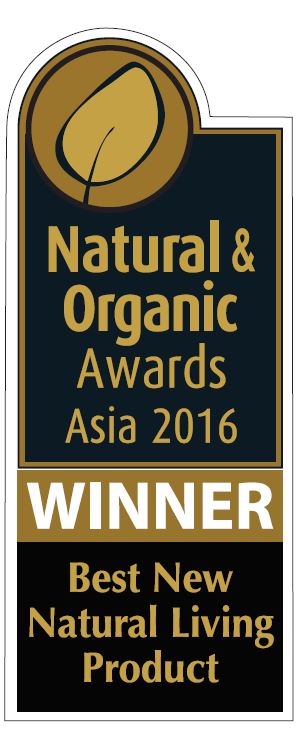 BacOff means BACTERIA OFF!
100% Natural & Organic: bacoff ingredients and formulations are approved by National Association of Sustainable Agriculture Australia (NASAA) as certified for Organic Input.
Award Winning Natural Product: bacoff is the winner of Best New Natural Living Product 2016 at NOAA, the biggest trade show in Hong Kong.
Made in Australia and sold to the world for a good and charitable cause.
Kills 100% Germs & Pathogens - Food grade, safe and certified to be used as a Hospital grade disinfectant to kill micro-organism on hard surfaces.
About the brands – Bacoff™

At Bacoff™, we are inspired to make your everyday cleaning safer and affordable for your family without compromising the environment. This path to our vision brought us back to nature. That's why our products are derived from 100% natural, sustainable based ingredients.
https://www.youtube.com/watch?v=jDTYtfbbyyc&feature=youtu.be
https://www.youtube.com/watch?v=vKhcZAzgvhw&feature=youtu.be
Product Availability
Ready Stock
Expiry date: 8.2021
Customer comments
| Author/Date | Rating | Comment |
| --- | --- | --- |
---