Product Details
An all natural, non greasy 3-in-1 outdoor skin protection for the whole family
It contains organic Aloe Vera to moisturise the skin, lemon Eucalyptus to annoy the mozzies, Zinc Oxide and Titanium Dioxide offers natural protection against UVA and UVB.
Suitable for the whole body including face. Also suitable for pregnant women.
Directions: Apply sufficient amount to cover exposed skin before going outdoors. Re-apply every hour or liberally. Patch test suggested.
Full Ingredients:
Deionised water, Titanium Dioxide, Zinc Oxide, Rice Bran (Oryza Sativa) Oil, Hamamelis virginiana (Witch Hazel) Extract, Polysorbate 20 (natural food grade emulsifier), Vegetable Glycerine, Helianthus annuus (Sunflower) Oil, Xanthonomonas campestris (Xanthan Gum), Prunus amygdalus dulcis (Sweet Almond) Oil, *Aloe vera powder, Eucalyptus citriodora (Lemon eucalyptus) Oil, Hydroxyethyl Cellulose (plant fibres), Almond & Vanilla Extract, Lavandula angustifolia (Lavender) Oil.
About The Brand -- Cherub Rubs

100% Australian Made and Owned
Certified Organic
Certified Toxic-Free
Clinically Tested for use on sensitive skin
Millions of products sold
Trusted by families & pediatricians worldwide
Cherub Rubs is one of the few fully certified organic skin care ranges in the world, using not just natural ingredients, but ingredients that are certified organic. It provides concerned parents with one of the most natural skin care ranges in the world as an alternative to steroid-based treatments for dry skin conditions. The products are approved in Australia for use with all children under 3 years old and are recommended by health professionals in Hong Kong, Singapore, South Korea and Taiwan.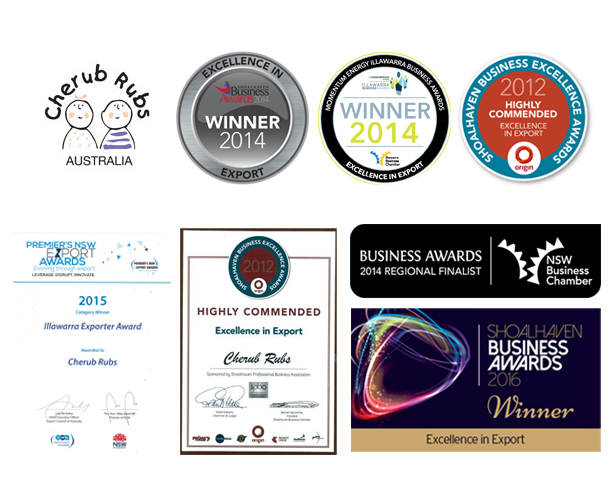 Product Availability
Ready Stock.
Expiry date: 7.2024