Product Details
How do I know if my liver may be ill?
Is this your lifestyle or history too?
Long term prescription and over-the-counter drug use such as pain-killers, anti-inflammatory drugs, antibiotics and anti-fungal pharmaceutical drugs

Drug abuse

Fast-paced modern lifestyle creates Excess hormones such as adrenalin in our bodies

Long term alcohol consumption

Excessive intake of fatty food

Exposure to toxic chemicals in the air, water and food

Exposure to occupational and environmental toxins such as insecticides, pesticides and organic solvents

Viral hepatitis

Past blood transfusions

Family history of liver disease
This checklist may give you a general idea whether your liver deserves a little more attention:
Abdominal discomforts such as bloating and swelling

Bad breath

Chronic weakness and fatigue

Sticky stool

Dark urine color

Coated tongue in the morning

Dark circles under the eyes

Heatiness

Mild nausea, especially after taking fatty foods

Poor appetite

Itchy skin

Swelling in legs and ankles

Skin problems such as acne, liver spots and pigmentation

Skin and eyes that appear yellowish (jaundice)

Unpleasant mood changes
Our proposed solution: Thomson Livrin 300mg
Acting as an important filter, liver is our primary detoxification organ that helps remove toxins that can damage other organ systems, including the heart, blood vessels, eyes, and skin. Proper liver function is critical to healthy cholesterol metabolism and even has an influence on the way a woman's body metabolizes estrogen.
Why Thomson Livrin 300mg then?
Each capsule of Thomson Livrin contains 300mg of highly concentrated Milk Thistle extract with not less than 80% Silymarin from Europe, of which 30% are the major bioactive constituents Silybin A and B.
Every batch of raw material is analysed for Silymarin and Silybin content, heavy metals as well as microbial contamination

Free of pesticides, fungicides, yeast, sugar, colouring and preservatives

Manufactured under strict Good Manufacturing Practice (GMP) with an in-house quality control laboratory
If you are curious!
Functions of Our Liver
Plays a major role in the metabolism of carbohydrates and proteins

Produces enzymes for our daily needs

Acts as a biochemical filter to remove toxic substances from our blood such as bacteria and harmful chemicals

Detoxifies what we eat, breathe and absorb through the skin

Manufactures bile to digest fats and removes cholesterol produced by the body
What is Milk Thistle?
40 years of scientific research in Europe has recognized Milk Thistle silymarin as a medicine for the liver

The biologically active ingredients in Milk Thistle were isolated in 1968 and are collectively known as silymarin - nature's free-radical scavenger by neutralizing damaging substances in the same manner as Vitamin C and E but with much greater effect

Silymarin also stimulates the growth of new liver cells and strengthens the structure of the outer membrane of liver cells to prevent poisons and toxins from entering the cells

Numerous human studies with Milk Thistle Silymarin extract have been carried out for alcoholic cirrhosis, anaesthesia, fatty degeneration, hepatitis, mushroom poisoning, occupational toxins and pharmaceutical drugs. Want to know more? Feel free to contact us anytime.
Recommendation
Dosage: 1 to 3 capsules daily in divided dose (Preferably 1 capsule in the morning and 2 capsules at night)
Precautions
Milk Thistle Side Effects
Milk thistle is considered safe and well-tolerated, with very few cases of side effects ever reported. The most common side effects aren't serious and include gastrointestinal upset, such as a mild laxative effect. When taken within the recommended dose range, milk thistle is thought to be effective and mostly free of allergic reactions and interactions. Women who are breastfeeding or pregnant should avoid using milk thistle.
One thing to note is that in certain situations, antioxidants like those found in milk thistle have been shown to possibly interfere with the efficacy of some cancer chemotherapy drugs by protecting cancer cells from cell death. This means that understanding appropriate doses and examining blood concentrations is important before milk thistle could be used as a true anti-cancer therapy.
ABOUT THE BRAND

Established since 1987, Herbal Revival Sdn Bhd has emerged as one of the leading herbal and nutritional supplement manufacturers in Malaysia, with the flagship Thomson brand of products which are synonymous with quality and innovation.
Thomson health supplements are manufactured in compliance with Good Manufacturing Practice (GMP) approved by the Ministry of Health in Malaysia.
Strategic worldwide collaboration with reputable and established suppliers who guarantee the quality of their proprietary raw materials has distinguished Thomson from the rest.
While pharmaceutical drugs are subjected to stringent efficacy and safety controls which are time consuming, expensive and requires total commitment, the same criterias do not necessarily apply to health supplements in most countries. Herbal Revival's staunch commitment to quality and safety has led to the creation of a team of competent and qualified Pharmacist, Chemist, Biochemist, and Microbiologist, to ensure that every batch of Thomson health supplements undergoes an endless battery of analytical tests in their in-house quality control laboratory to meet the ultimate needs of our customers.
Herbal Revival was also the finalist for 2012 Industry Excellence Award organized by Malaysia Ministry of Health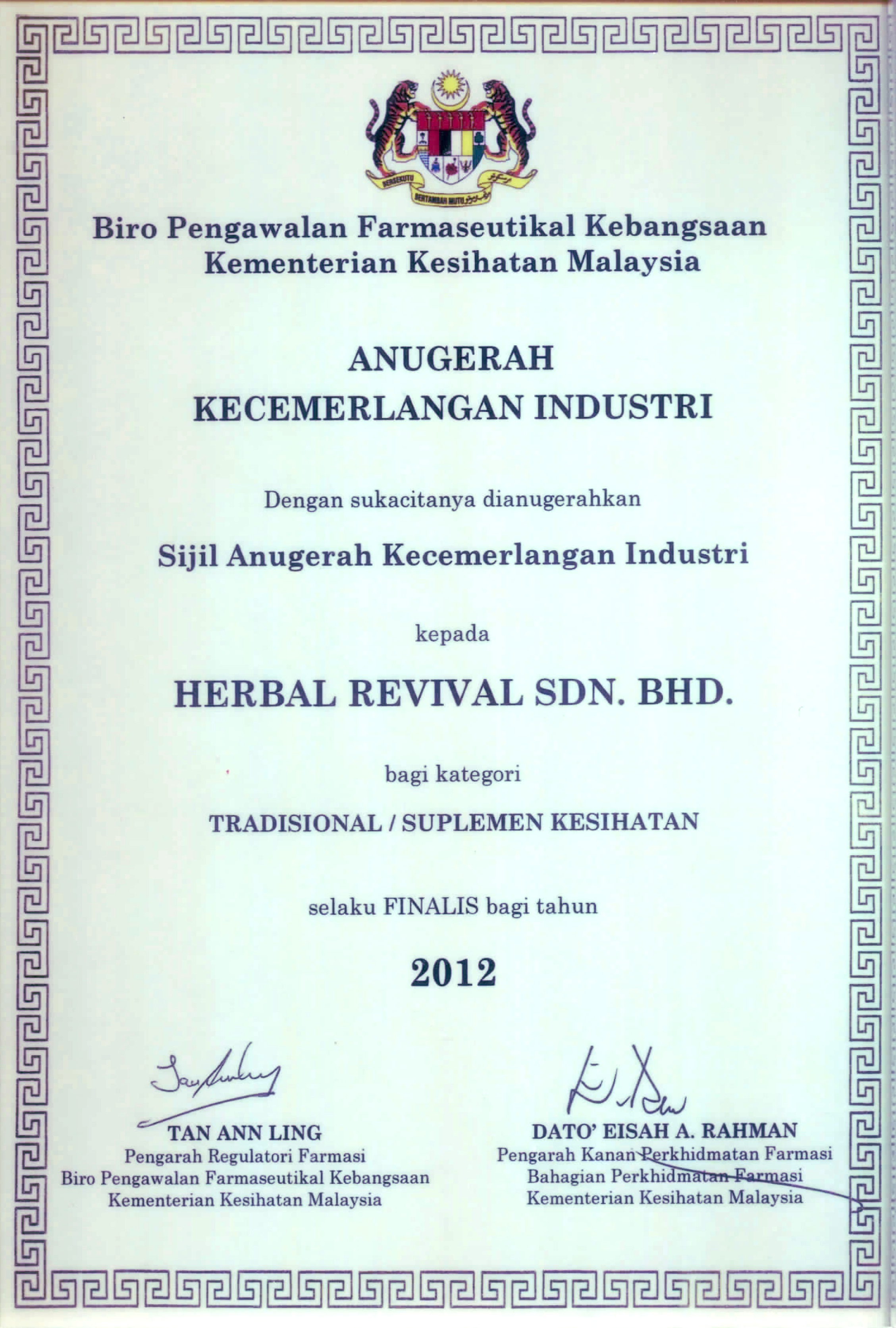 Company Youtube: https://www.youtube.com/watch?v=lQvyNxD2exw&feature=youtu.be
Product Availability
Ready Stock.
Expiry date: 2.2026