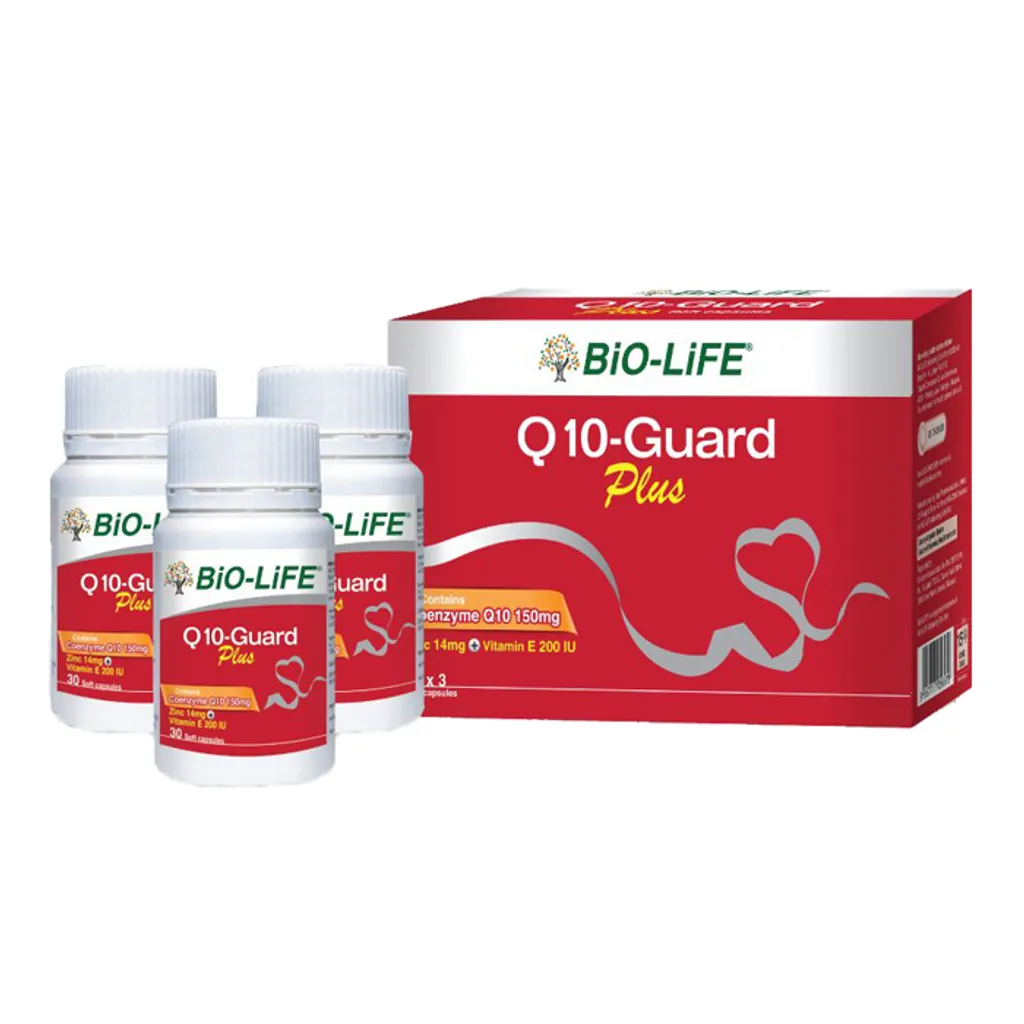 BiO-LiFE Q10-Guard Plus
Product Details
According to Malaysia Statistics on Medicine 2008, Lipid modifying agents, mainly statin drugs, which inhibit the cholesterol production in human liver, is the the most used drugs in Malaysia. Numerous studies reported that statin usage reduces the CoQ10 level in the body. The CoQ10 depletion scenario causes the patients with on-going statin medication experience some side effects, including mitochondrial dysfunction, leads to symptoms such as fatigue, muscle weakness and even heart failure. Besides, statin usage also depletes Vitamin E levels and zinc levels.
Coenzyme Q10 (CoQ10), also known as ubiquinone, is a naturally occurring fat soluble component in human body. It plays a vital role in energy production and oxidative stress resistance. CoQ10 supplementation had been proved to compensate the disadvantages caused by statin exposure (resulted in a four-fold increase in plasma CoQ10 level afer 300mg daily of CoQ10 supplementaion for 1 month), as well as improve body's antioxidant level status.
BiO-LiFE Q10-Guard Plus GUARD YOUR HEART:
High strength CoQ10 product to fulfill body's need due to statin treatment

Added Zinc and Vitamin E which are beneficial for cardiovascular disease

Convenient once-a-day dose (with 150mg CoQ10 per capsule)

Soy Bean Oil-base with good absorption due to lipophilic nature of CoQ10

Certified Halal by Al Iman Islamic Society Inc (A.I.S) Australia, recognized by JAKIM
BiO-LiFE Q10-Guard Plus contains 150mg Coenzyme Q10, high strength CoQ10 to repelnish CoQ10 level associatied with statin treatment to improve energy production and antioxidant status. Besides, it is also added with 14mg of zinc. Studies report that low serum level of zinc is associated with increased incidence of cardiovascular disease. Zinc has antioxidant-like properties, which play a role in suppressing the oxidative stress related health problems. In addition, BiO-LIFE Q10-Guard Plus also contains 200IU of vitamin E, which is a well-known antioxidant to combat lipid peroxidation and modulating inflammatory response in human body. The presence of vitamin E reduces the risk of atherosclerosis, and eventually heart problem.
Each capsule contains:

Coenzyme Q 10 (Ubidecarenone)

150mg

D-alpha Tocopherol

134.23mg

equiv to Vitamin E

200IU

Zinc Amino Acid Chelate

70mg

Equiv to zinc

14mg
Dosage:
Take one capsule once daily with food or as recommended by our nutritionist.
Contra-indications/Caution:
If you are on warfarin theraphy, please seek medical advice before using

Pregnant women and nursing mother should avoid CoQ10 supplements
Source of gelain: Bovine
Source of beeswax: Bee (honeycomb)
ABOUT THE BRAND
BiO-LiFE Marketing is a growing healthcare subsidiary within Global Swiss Multinational (MNC) corporation DKSH Ltd, the leading Market Expansion Services provider with a focus on Asia.

BiO-LiFE with 25 years of experience and counting in the natural healthcare industry has a team that includes nutritionists, biochemists, food technologists and microbiologists. Since 1990 in Malaysia, BiO-LiFE has been synonymous with quality, safe and efficacious health supplements from Australia and United Kingdom.
A leader in natural healthcare & holistic therapies. BiO-LiFE name represents a range of nutritional supplements & herbal remedies based on scientific evidence & built on a strong foundation of QUALITY • SAFETY • EFFICACY. Working closely with nature, BiO-LiFE's products are specially formulated to meet the needs and expectations of today's modern lifestyle.
Product Availability
Backorder Item.
Please take note that the waiting time for Backorder items is around 1-3 weeks from the date of payment, subject to stock availability. For orders outside Malaysia, there might be a shipment delay especially during peak holiday seasons. We will try our best to expedite all orders but in any cases that Backorder is cancelled, full cash/credit refund will be given. We sincerely appreciate your kind understanding and patience.
---