Product Details
Ingredient: 100% Natural Korean Red Dates Extract
Origin: Bo-eun, South Korea
Highly Concentrated, Rich in Nutrients
Shelf-life: 18 Months
Calories: 41 kcal/pack
Net Weight: 100ml
No Colouring, Flavouring, Preservative,
No Added Sugar
Sulphur Dioxide & Pesticide Free (SGS Tested)
HALAL Certified
Dodum Korean Jujube Essence. The Traditional Korean Secret to Youth & Beauty.

Ingredient: 100% Natural Korean Jujube (Red Dates) Extract

Benefits:
Rich in nutrients that can boost your energy and improve your focus.
Help to nourish your blood, improve relieve and regulate menstrual problems.
High in antioxidant flavonoids and vitamin C, keeping your skin youthful and radiant.



Origin: Bo-eun, South Korea
(Only using red dates farmed and harvested fresh from their own farm in the Boeun-gun that is famous for its high-quality red dates and pollution-free environment)
Premium Quality, Highly Concentrated, Rich in Nutrients

Directions:
Drink 1-2 pack a day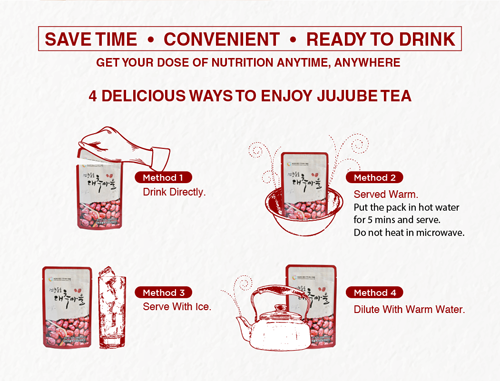 Recommended for:
1. Before & after menstrual cycle
2. Feeling tired and lethargic
3. Pale & dull complexion
4. Pregnancy and breastfeeding mothers
5. Cold hands & feet
Storage: Avoid direct sunlight and keep in cool dry place
About the brand - DODUM

Agricultural corporation Doum-eun. Started business in Boeun, Chungcheongbuk-do, a clean area in 2013, and put argiculture, nature and consumer values as top priorities. We are doing our best to create sanitation, safety, and sustainable food.
Availability
This is a BACKORDER item.
Please take note that the waiting time for Backorder items is around 1-3 weeks from the date of payment, subject to stock availability. For orders outside Malaysia, there might be a shipment delay especially during peak holiday seasons. We will try our best to expedite all orders but in any cases that Backorder is cancelled, full cash/credit refund will be given. We sincerely appreciate your kind understanding and patience.