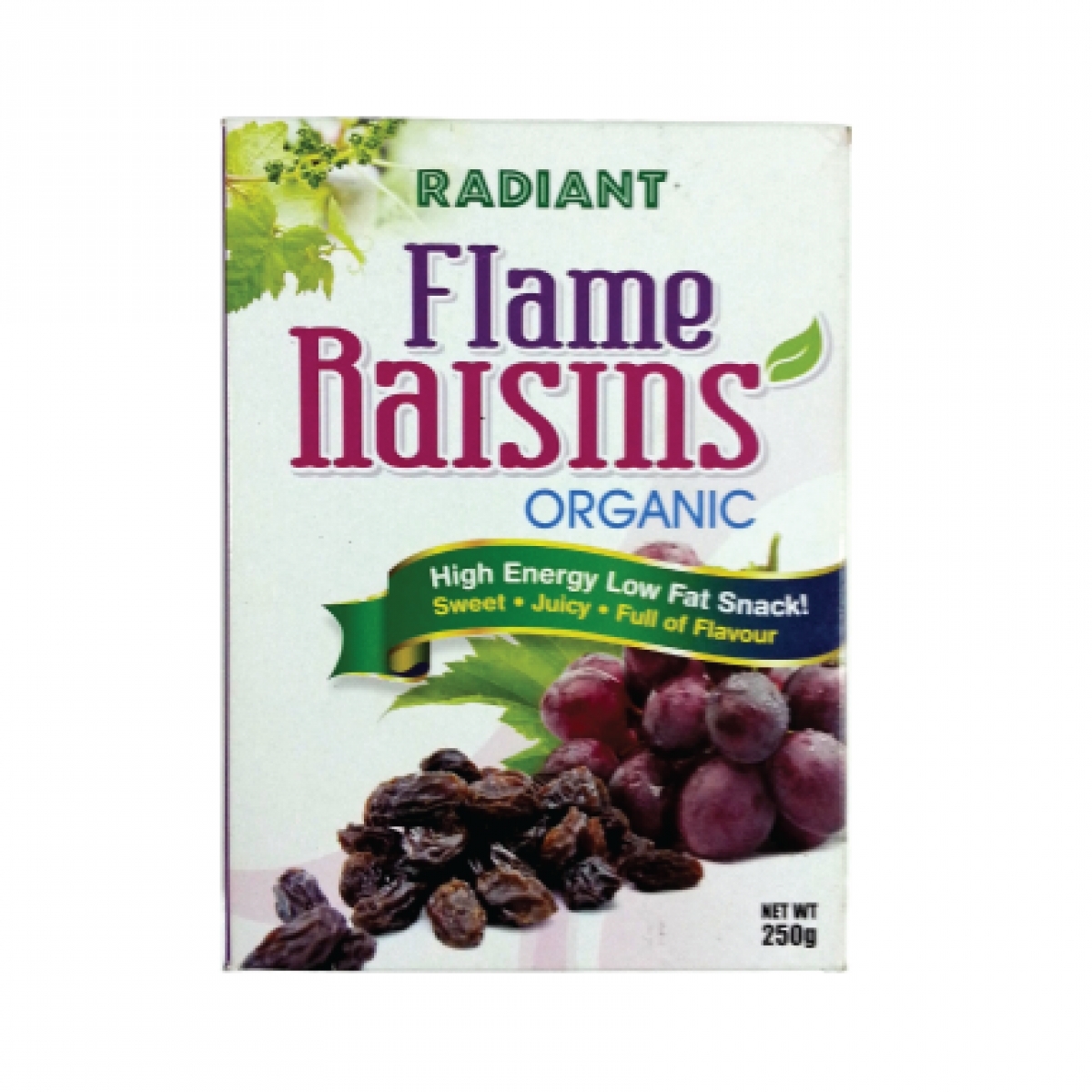 RADIANT Organic Flame Raisins (250g)
Available to ship : 8-12 working days subject to stock availability
All prices inclusive of 6% GST
Radiant Organic Flame Raisins are from Flame seedless red grapes. The grapes are grown in nutrient-rich soil, vine-ripened for maximum wetness and are grown without toxic chemicals or treated with fumigants and preservatives.
Naturally sun dried and its natural sweetness is retained. No sugar is added, moist and delicious. Rich in anti-oxidant, vitamins and minerals like potassium and iron.
A Few Quick Serving Ideas
They can be enjoyed as a snack. Can mix flame raisins with peanuts, cashews, almonds and other dried fruits or seeds as a healthy, between-meal snack.
Sprinkle over to enrich fruits salads, yogurt, cereal or oatmeal.
Add to bakery items like cookies, muffins, breads, cakes and etc.
ABOUT THE BRAND - RADIANT CODE

Radiant Code is a reputable and well trusted organic food importer and distributor in Malaysia. They are the first importer and distributor of organic foods in Malaysia that receives organic certification since year 2000.
They deal with reputable certified organic farms and manufacturers who are accredited to International Bodies like IFOAM (International Federation Of Organic Agriculture Movement). They are not only organic certified by BioGro New Zealand but also certified by SGS (Societe Generale de Surveillance, Switzerland) for HACCP (Hazard Critical Control Point Analysis) and GMP (Good Manufacturing Practice). They are also Halal certified by JAKIM.
Radiant Code supplies a comprehensive range of organic products to complement a healthy lifestyle.
Customer comments
| Author/Date | Rating | Comment |
| --- | --- | --- |
---