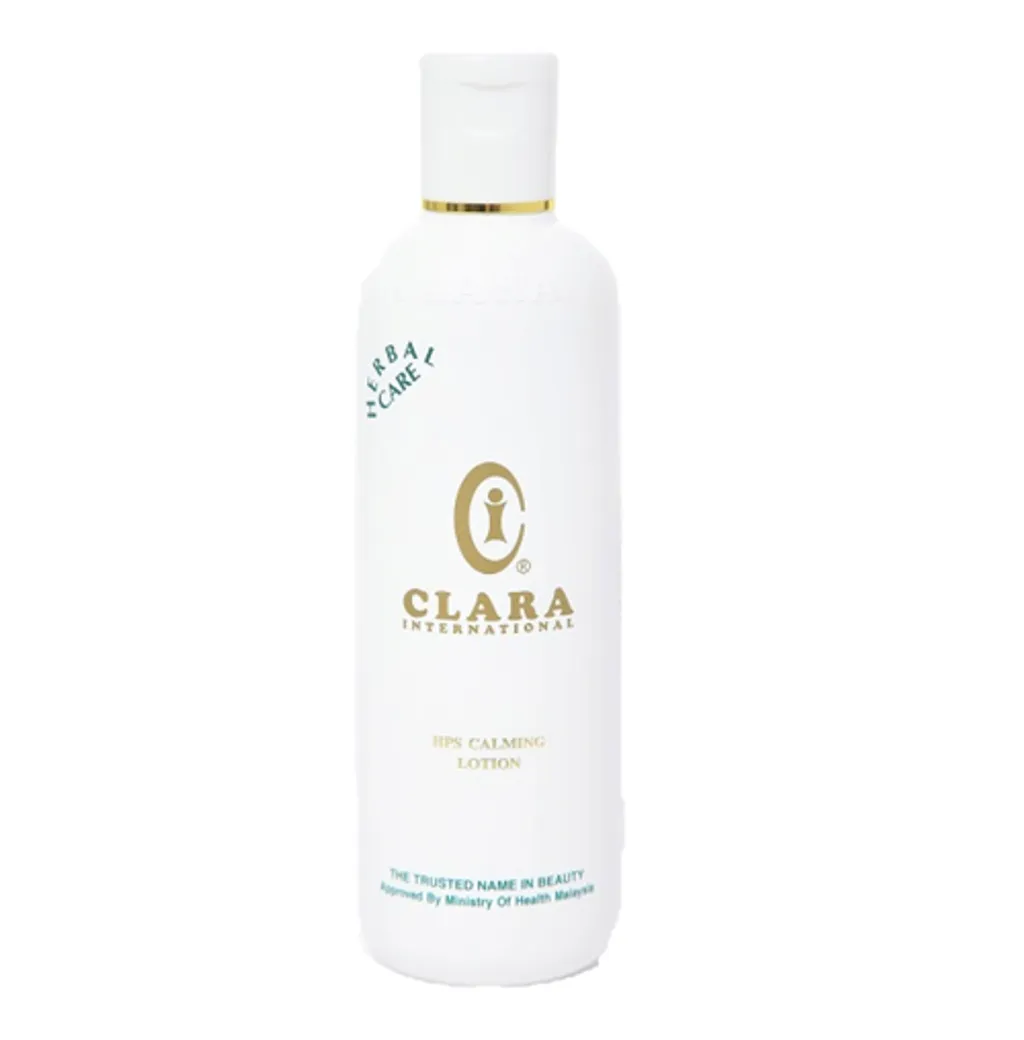 CLARA HPS Calming Lotion (150ml)
Product Details
Designed especially for hyper-sensitive skin, the HPS range is concocted with one of the mildest and most gentle herbal ingredients to care for delicate and very sensitive skin. It does not leave your skin feeling irritated with a feeling of uneasiness, in fact it helps you combat and prevent that feeling from happening again by soothing and calming inflamed skin. The products in this range contain active ingredients such as Witch Hazel Extract and Chamomile Extract that help to refine enlarged pores while calming and soothing inflamed and sensitive skin, providing exceptional relief. It allows your skin to feel moisturized, smooth and comfortable while returning your skin its originally youthful state.
Here is a soothing lotion composed of mildest skin ingredients. The lotion helps to normalise dilated capillaries skin leading to a noticeable clearer complexion.
Direction:
Apply lotion by saturating a cotton pad and lightly sweeping it using upward and outward motions over the face and neck. Apply immediately after cleansing.
Ingredients:
Deionised Water
· Purified water for a more stable and cleaner performance
Rosemary Water (Rosmarinus officinalis)
· Stimulates circulation
· A sebum regulator with shine-control benefit
Cornflower (Centaurea cyanus)

As an anti-inflammatory, skin conditioning agent and astringent, it soothes inflamed and irritated skin
Has anti-bacterial and antioxidant properties

Portulaca Extract (Portulaca oleracea)


· Has a soothing effect
· Accelerates the skin's healing process
· Improves the skin's elasticity
Chamomile Extract (Matricaria chamomilla)
· Provides soothing and calming effect on the skin
· Reduces skin inflammation, promotes skin's elasticity and texture, as well as reduces signs of photo damage
Vitamin PP
(Vitamin B3)
· Improves the skin cells and makes it firm
· Increases the moisture balance of skin
· Keeps the skin healthy, soft, and glowing
Allantoin
· Soothes irritated skin
· Stimulates cell regeneration
· Moisturizes dry skin
Phenoxyethanol

Anti-bacterial and stabilizing agent
The product is registered with Ministry of Health Malaysia (MAL 03110089K)
About The Brand

37 Years of Expertise, Professionalism & Dedication
A pioneer in skin care since 1977, Clara International Beauty Group strives to become a true leader, acknowledged beyond Malaysia, breaking new ground in almost every facet of the industry.
With own R&D facilities, manufacturing plants, beauty centres, beauty colleges, beauty equipment distributorship, and time-tested business format franchise, Clara International has successfully evolved to become one of the largest beauty chains in Malaysia, with over 50 beauty centres throughout Malaysia with associates in Philippines, Singapore, Indonesia, Thailand, Brunei, Mauritius, India and Myanmar.
Product Availability
Backorder Item.
Please take note that the waiting time for Backorder items is around 1-3 weeks from the date of payment, subject to stock availability. For orders outside Malaysia, there might be a shipment delay especially during peak holiday seasons. We will try our best to expedite all orders but in any cases that Backorder is cancelled, full cash/credit refund will be given. We sincerely appreciate your kind understanding and patience.
---