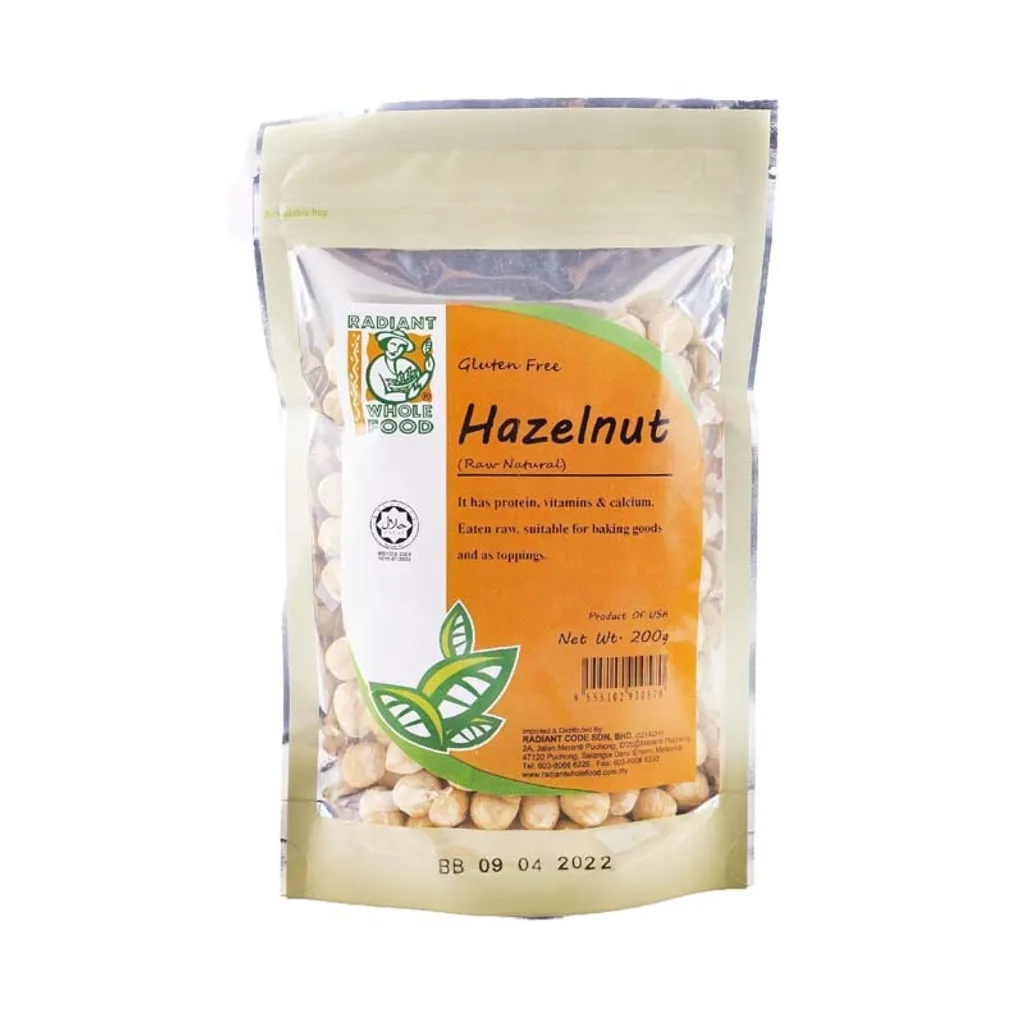 Radiant Natural Hazelnut (200g)
Product Details
Country of Origin: USA
Grown in Europe and the US, hazelnuts are encased in a smooth, hard brown shell but are most commonly sold shelled. The sweet-tasting, cream-coloured kernel is small and round, with a pointed tip. Its thin, dark brown skin is faintly bitter, so some people like to remove this before eating.
Also known as cobnuts or filberts, hazelnuts are good eaten raw but the flavour takes on a more mellow, sweeter character when they are roasted. Like almost all nuts, they have a high healthy fat content.
Good for your brain
Good for your heart
Bone health - a fantastic source of calcium
Antioxidant benefits with high vitamin E contents
Protein power plus
Loaded with dietary fiber
How to Enjoy:
Consume straight from the package as snack.
Sprinkle some chopped toasted hazelnuts on top of mixed green salads.
Add chopped toasted hazelnuts to your favorite hot/cold cereal or yogurt.
Ideal for making nut milks, nut butter and baking goods.
ABOUT THE BRAND - RADIANT CODE

Radiant Code is a reputable and well trusted organic food importer and distributor in Malaysia. They are the first importer and distributor of organic foods in Malaysia that receives organic certification since year 2000.
They deal with reputable certified organic farms and manufacturers who are accredited to International Bodies like IFOAM (International Federation Of Organic Agriculture Movement). They are not only organic certified by BioGro New Zealand but also certified by SGS (Societe Generale de Surveillance, Switzerland) for HACCP (Hazard Critical Control Point Analysis) and GMP (Good Manufacturing Practice). They are also Halal certified by JAKIM.
Radiant Code supplies a comprehensive range of organic products to complement a healthy lifestyle.
Product Availability
This is a BACKORDER item.
Please take note that the waiting time for Backorder items is around 1-3 weeks from the date of payment, subject to stock availability. For orders outside Malaysia, there might be a shipment delay especially during peak holiday seasons. We will try our best to expedite all orders but in any cases that Backorder is cancelled, full cash/credit refund will be given. We sincerely appreciate your kind understanding and patience.
---